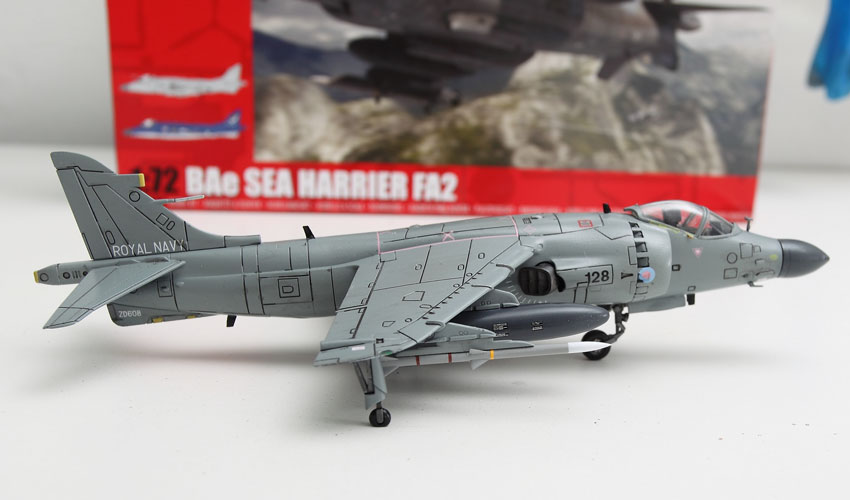 If the Spitfire is the model makers go to in terms of WWII then the Airfix BAe Sea Harrier FA2 is the post-war go to.
This iconic British jet which is sadly no longer in service is certainly one of the more interesting planes to look at.
Fondly known by many as a 'jump jet' these smalls planes pack a lot of punch, something that can also be said for this offering by Airfix.
The kit is self is not too complicated. For this build, a few extras were used to help ensure a good finish to the model. Items used to help with this build included and resin seat and also a paint mask.
While these helped, in fairness the model can be easily completed without them. However, the paint mask proved to be a real time-saver while producing a sharp finish to the canopy.
Airfix BAe Sea Harrier FA2 1/72 The Build
Airfix should be proud of this effort. The kit goes together quite well. There were some issues along the way with the air intakes on the side. While there were also a few problems getting the exhausts to fit.
Building the model needs a little planning ahead. Many of the early stages need painting before assembly. While these are drying a good tip is to work on the weapons to help speed p the overall build process.
Anyone who has built Harriers before will know the common issue is getting the landing gear to sit perfectly. While this kit makes this easier to get right, it is worth dry-fitting these parts in to ensure things are lined up.
Painting and Finishing
Paining was completed using Tamiya Paints that were airbrushed onto the model. One the paint was dry a Vajello gloss was applied and allowed to cure overnight. There are a lot of decals with this kit given its size. These were applied to the model and using decal fix allowed to set.
Additional work and time should be given to the roundels over the air intakes. Over the course of a couple of days and plenty of decal fix, these soon moulded nicely around the contours of the model.
Once the decals had dried the model was again treated to seal them in. For this, a Vajello Satin that was diluted with water was used. Several thin coats were applied to the model.
To finish off Tamiya panel liner was used to put out some of the detail on the body and show off the panel lines.
Airfix BAe Sea Harrier FA2 1/72 Conclusion
As models got this is a pretty good kit offering an enjoyable build. It does not offer as good value as the Airfix Harrier GR9 Gift Set, but it is more detailed.
This is a model that is worth having close to hand to hand. If you want to build something that does not have an overly complicated paint scheme then you certainly should consider this kit.
Airfix BAe Sea Harrier FA2 1/72 Photo Gallery
More model plane reviews