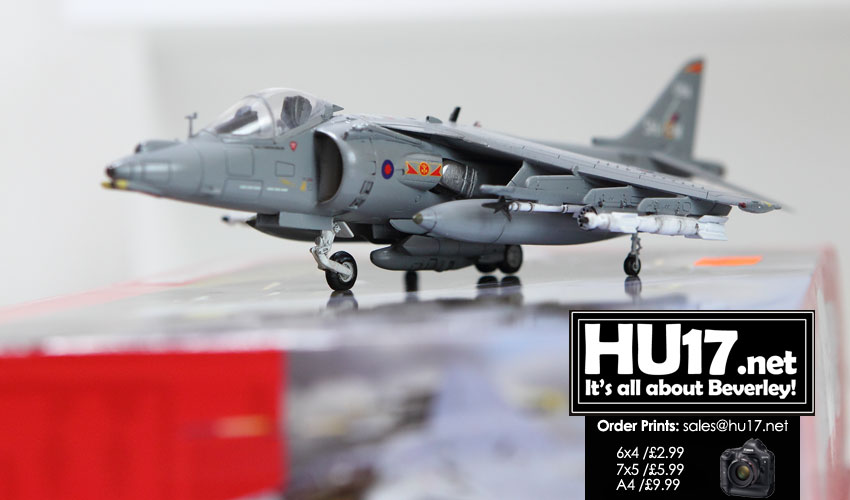 Airfix Harrier GR9 Gift Set 1/72 is one of the companies larger gift sets and comes with everything you need to complete the build.
Within the Airfix Harrier GR9 Gift Set 1/72, you get two brushes, a set of paints, glue and also the model.
While some people say the paints supplied with the kit are not very good, I would certainly dispute that. Used with care, in the right way they work perfectly well either airbrushed or when applied with a brush.
As with all kits from this great manufacturer the actual quality of the model is of the highest quality. There are plenty of details on the moulds while the model comes fully armed with a host of weapons to be installed under the wings.
Another nice touch is the option to have the refuelling nozzle up or down. While there are options to have the flaps down depending on how you want to display the final kit.
Also, worth noting is that generally, the kit fits very well. The method in which is used to fit the wings helps ensure that the wheels sit nicely. This is an issue with other kits, like the Tamiya 1/48 Sea Harrier where wings need to be lined up with precision.
Airfix Harrier GR9 Gift Set 1/72 Construction
Building the Harrier GR9 is quite simple and can be tackle in nice easy sub-sections. In terms of issues, there were a couple to be mindful of. The exhaust nozzles are not exactly a great design. When joined there are awful join lines which are hard to remove. Furthermore, once made they can be quite difficult to fit the model.
It is worth spending time on making the nozzles and test fitting them. Also when doing this part of the model it is worth sanding them much more to ensure a looser fit. They can, of course, be glued in place.
Other things worth considering are not installing the seat into the cockpit till the last minute. This way you can ensure that it fits and the canopy closes up nicely. A small thing but in the long run can save a lot of hassle.
Once the model is assembled painting is quite simple. Some of the stages, like the intakes, need to be painted ahead of time. However, as the model is pretty much all grey you can paint it one sitting. Once this is done adding the exhausts, weapons and wheels and the job is done.
Final Word
This is a cracking model kit and simple enough even for beginners to tackle. One of the most iconic modern jets it looks fantastic when finished. Given the price which is around £25, it is worth every penny as you get everything you need to complete the kit.
More model plane reviews
Airfix Harrier GR9 Gift Set 1/72 Photos