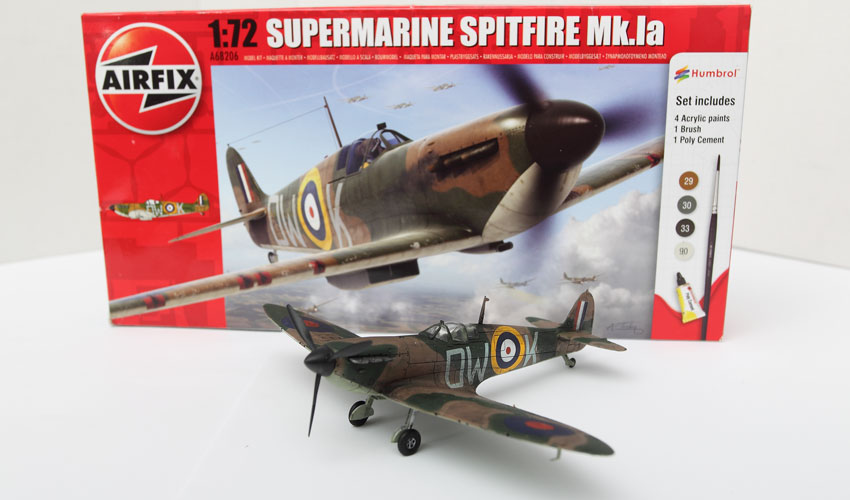 Airfix 1/72 Spitfire is, of course, a very simple model that requires only the basic of skills. The thing is what is there not love about this model.
When you think about the Battle of Britain you think about the Spitfire. While there are many other companies who make this model in this scale, Airfix does a grand job.
This model was picked up for less than ten quid and was packed full of detail given its size. Overall the kit goes together without too many dramas. Just a small amount of filler needed and some sanding to hide the joins.
While the model was supplied with paints and glue, none of these was used on this build. Instead, Tamiya paints were used and airbrushed onto the model.
Once painted the decals were applied. Again this was a simple process, there really were not a lot of decals to put on.
Once these were applied the Spitfire was given a coat of Vajello Matt varnish and allowed to dry. Next, it was time to throw on some wash. Applying the wash helped draw out more of the detail in this kit.
Airfix 1/72 Spitfire Conclusion
Overall this is a superb little model. Yes, it may be too simple for some though it is always good to use these kits to test out new skills or techniques.
Personally, what was tried out for the first time with his was cutting the decals into the panel lines. To do this a blade was used so that the decal fix could help really shape them to the model.
Yes, there are solutions that can do this but as with everything, there are often ways to get around things.
Without question, I would recommend this Airfix 1/72 Spitfire to anyone. Once complete it looks very nice on a shelf or hanging from a ceiling.
Buy An Airfix Spitfire With Paints & Glue Online Click Here
Video – Novice Build Spitfire Starter Set