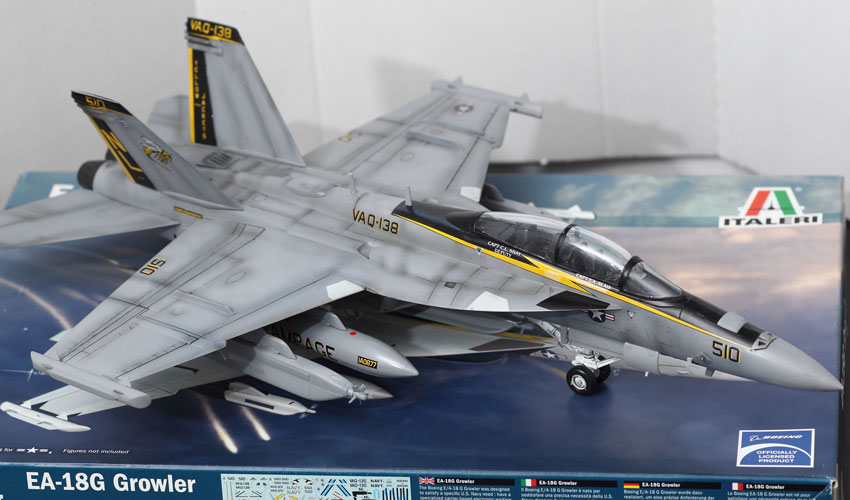 Italeri EA 18G Growler as kits go is certainly something I would recommend to other model plane builders.
The model its self is made from good quality plastic with plenty of detail. While it is not supplied with figures this is not a major problem as they can be added.
Price-wise the kit, give its size is very reasonably priced. Furthermore, the wide selection of decals gives you the builder a whole range of ways to finish the model.
When finished the Italeri EA 18G Growler also makes an impressive model when displayed. There are some issues during assembly though nothing that with some care can be resolved with ease.
EA 18G Growler About The Model
The EA 18G Growler supplied by Italeri and its default finish as shown in the pictures is based on Electronic Attack Squadron 138 (VAQ-138), also known as the "Yellow Jackets".
It is an expeditionary EA-18G Growler squadron of the United States Navy based at Naval Air Station Whidbey Island, Washington. Their radio callsign is "RAMPAGE".
The parts are moulded in grey plastic and very crisp with barely any flash to deal with. While the instructions are clear there are some sections that are better done in a different order to make for a better and easier fit.
In terms of construction, the build does start with the cockpit. However, before tackling this model I decided to remove the larger parts and get them all cleaned up and dry fitted.
Italeri EA 18G Growler Assembly & Painting
I also did the same for the fuel tanks and other drop tanks that needed to be put on the model. Once these part were all done I started to assemble the cockpit. As they were drying work was then carried out on the drop tanks, glueing them and removing the join marks.
Everything went together well. Some filling was needed to hide the joins but overall this model slotted together with no problems.
Some of the joins are also hidden which was good. The main problem in terms of fitting I found was with the undercarriage. Some sprugoo and plenty of time for drying did resolve this.
Paint the Italeri EA 18G Growler was a joy. For this, a mix of paints from Tamiya and also Vajello were used. Light grey was the base coat I built up from using a darker grey from Tamiya.
The undercarriage was sprayed using Vajello, while the tyres on the wheels were completed using Tamiya Black Rubber.
Once the decals had been applied and the model sealed, Tamiya smoke was used to help add some post shading giving the finished plane a bit more depth.
Italeri EA 18G Growler Build – Conclusion
This is a model that anyone who has an interest in modern jets should build. When I say a model I mean this kit. There is no question this is one of those real beauties that just seems to work.
The decals may look complex but they are actually really robust and went on with no bother what so ever. The only thing to look out for is the undercarriage, that certainly needs to come care.
More model plane reviews