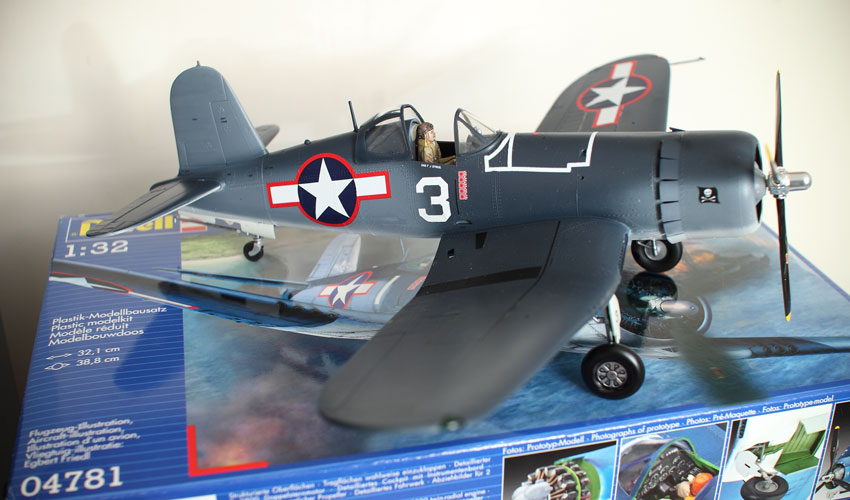 Revell Vought F4U-1A Corsair Model Kit proved to be a challenging build. As models go it was not only quite cheap but also quite big.
While this may be an old kit, there is a lot you can do with the model right out of the box. There is an option which allows you to have the wings folded, but for this build, I chose not to.
What is good about the Revell Vought F4U-1A Corsair is that they ship it with a pilot. The lack of detail in the cockpit means this is a real help.
As for the kit, well it does not have too many parts to it. The mouldings are quite good but there is a lot a flash to clean up before you can start.
There are also a few issues that need to be overcome along the way. The ariels are moulded to the main fuselage so care is needed. Also, the cockpit frames are quite difficult to see so masking was a real challenge.
Most of the parts fit quite well. With some patience, the fit is good enough to get away with very little filler. However, if you build it with the wings in the down position you will need to fill some gaps.
Revell Vought F4U-1A Corsair Model Kit Conclusion
Overall the model is a makes for a decent project. The decals are very good and went on with no trouble what so ever.
You are given the option of two different versions to finish the kit. Both are quite similar but still, you have a choice.
In the right hands, it is possible to knock this kit off in a few sessions. Paint wise, I used a set from Hataka, Tamiya, Alclad and also Vajello.
Given the price of the Revell Vought F4U-1A Corsair Model Kit, it is really hard to complain about it. Once complete it makes for a very striking display model, one those who like the WWII era will certainly enjoy.
More model plane reviews