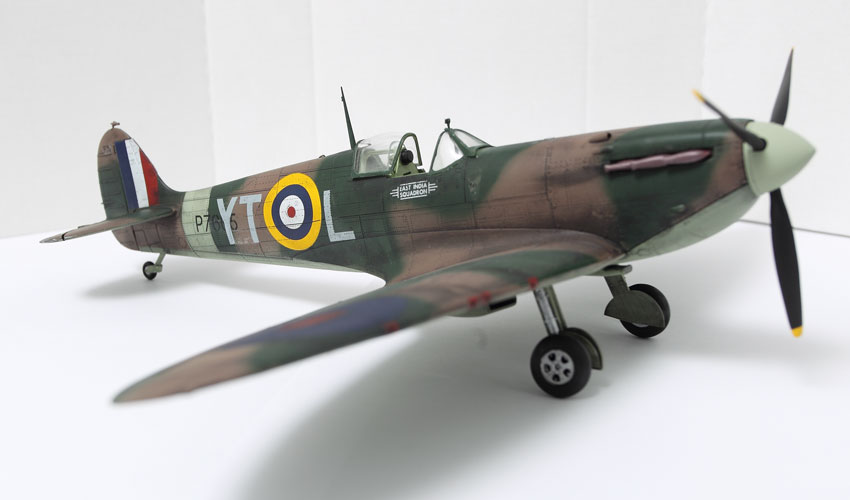 Revell Supermarine Spitfire at 1:32 scale is a wonderful model that everyone should tackle at least once.
Not only is the kit highly detailed it is also a simple build with that pretty much fits together without any major issues.
As a kit, the Revell Supermarine Spitfire at 1:32 scale can also be picked up relatively cheaply. Amazon and also ebay frequently have this kit at a much lower price than the RRP.
Building The Supermarine Spitfire at 1:32 Scale
Construction of the model is not hard at all. Most of the work takes place with the cockpit. As a result of this, you end up with a stunning detailed cockpit. While there is no pilot figure supplied, you really do not need one. There is enough detail to keep model makers happy and also keep the model interesting after completion.
Of all the parts the only things to be mindful of when it comes to fitting are the wings and also tail fins.
The wing section where it meets the body there is a small gap. This can be easily dealt with. While the tail fins you have to cut off some of the plastic, take your time. Get this wrong it can really screw your model up.
Decals with this kit are a breeze. There are some areas of raised parts which you have to overcome. Use plenty of decal fix and if need be a hairdryer to help shape and form the decals. The markings on the underneath are quite challenging, but when on look fantastic.
Painting
The Revell Supermarine Spitfire at 1:32 Scale
To paint the Revell Supermarine Spitfire it was done using a mix of paints. Tamiya and also Vajello paints were used and applied with an airbrush.
Finishing the model was done using Vajello and also a wash to help add an extra punch.
Revell Supermarine Spitfire Conclusion
Overall this is a great model. There are other scales out there, even bigger ones, but this offers the best value for money. Once made up the model also looks great when displayed. It is big enough to be noticed but no so big it needs a lot of space.
What makes this model really stand out though is its price point. This is certainly a must-have and must build for all.
More model plane reviews