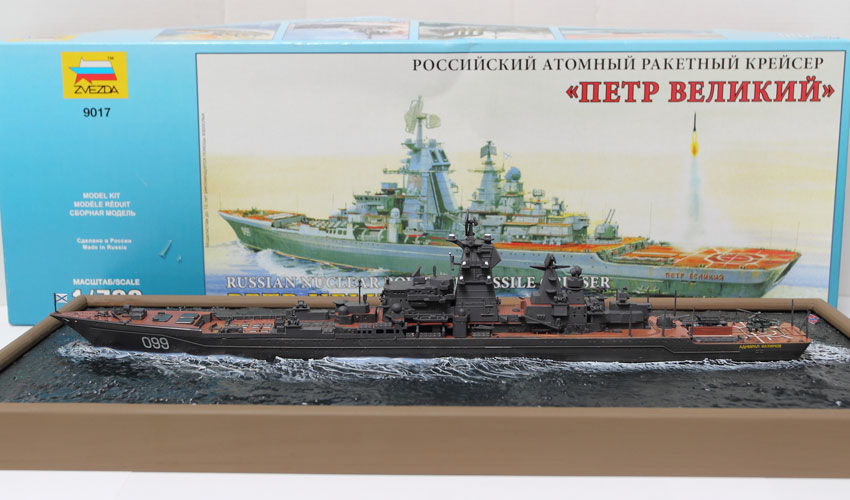 Zvezda Petr Velikiy Russian Warship is a superb quality model. Even at 1/700 scale, it makes up into a nice size ship.
Having never tackled a model by Zvezda I was some what worried about what may arrive when it was shipped to me. Well, I need not have been. The mouldings were crisp while very little work was needed to clean up the parts.
Another superb feature of this model is that it comes as a waterline. This is certainly a bonus for those who like to put their builds into a seascape.
When I purchased the Zvezda Petr Velikiy Russian Warship my plan was always to put it some sort of sea.
While the model is well made you do need to be prepared to pull out the tweezers s for the smaller parts. There are lots of these, but they are really well made.
The painting was done using Vallejo paints out of the bottle while for the deck this was mixed using some brown, yellow and white.
What was a challenge with the Zvezda Petr Velikiy Russian Warship was painting on the markings on the helipad. However, using a pin and also by taking your time it can be achieved.
One of the issues with this kit was the decals, there were very fragile. Some of them broke but you do have enough options to overcome this, you just may have to name your ship differently.
The two helicopters supplied with the kit are also a real bonus, they help bring it alive adding those extra bits of detail.
Zvezda Petr Velikiy Russian Warship Conclusion
This is a model that without a doubt I would recommend to other model builders. Russian ships just look nice, unlike the more modern US ships they, not all flat and dull.
Skill-wise it is simple enough and the fact it is a waterline means it can easily be put into a scene.