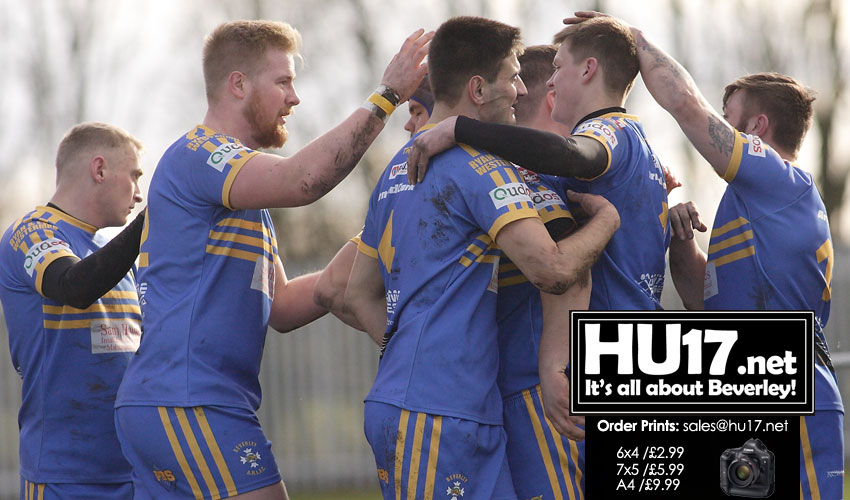 Beverley ARLFC sent the league leaders packing in this hard-fought encounter on a showery and chilly afternoon at the Leisure Centre.
Bradford Dudley Hill brought a physical and more experienced side to town. However, Beverley side was undeterred.
An upbeat Head Coach Scott Taylor commented said;
"That was our best performance of the season by a mile. In the games we have lost in recent weeks we have shown signs of getting there. But it certainly clicked for us today."
"We are home next week also, we need to follow up with another win then maybe our season is back on track."
Beverley started strongly and were determined to take the game to their physically bigger opponents. After a few attacks which saw Bobby Howdle and Alex Starling both held up over the line they got the scores moving after 10 minutes.
Howdle's sharp pass from dummy half sent Joe Morley crashing over. This was despite some close attention from a number of visiting defenders. Lewis Straw tacked on the extras.
As Beverley pressed for more points. Lewis Poskitt's kick forced a line drop-out and the next set saw man of the match Alex Calvert go close only to lose out to numbers.
Bradford enjoyed some attacking. A loose pass was intercepted by Lewis Straw who was chased down. The field position did then allow for the ball to be moved to the right for Ben Atkin to cross wide out.
Josh Poskitt converted from the touchline. Very soon after, Alex Starling's break saw some smart support play from Bradley Kirkby. He touched down beside the posts. Josh Poskitt converting for an 18-0 lead after 28 minutes.
Beverley Were Against The Ropes But Battled Back To Secure Important Win
After forcing another repeat set from a line drop-out, Sam Coleman's attempt to add to the lead with a drop-goal went wide. The rest of the half saw Bradford enjoy more of the game. For the most part, Beverley defended well. They were, however, powerless to prevent Damian Smith crossing in the corner. The try coming after a pass hit a Beverley man and landed into the hands of the right winger. This try was not converted and the score stood at 18-4 at the interval.
In the second-half things were much harder work. Bradford threw plenty at Beverley as they attacked. Beverley appeared to be on the ropes 10 minutes into the half. This seemed more the case, especially when going down to 12 men. Jordan Precious sent to the sin-bin.
However, Beverley's defending remained resolute and their reward followed in attack after 54 minutes. Lewis Poskitt kicked high and long and Billy Riby followed up from deep to pounce and take advantage of a cruel bounce of the ball and touch down. Lewis Straw converted and the game was realistically in the bag at 24-4.
Bradford Become Frustrated As Match Slips Away
Bradford's frustration showed in the closing stages as they conceded a number of penalties due to high tackles and showing dissent. Joe Morley caught the eye with his hard work taking the ball up alongside Alex Calvert. Youngster Bradley Kirkby also continued to vindicate the faith that has been shown in him with some sound yardage against an opposing pack prepared to mix it a little.
As the game drifted into injury time, Josh Poskitt added a penalty from long range to complete the afternoon's scoring. In a very even league, the win is a significant one as the afternoon saw a home defeat for local rivals and promotion hopefuls Hull Dockers to Barrow Island.