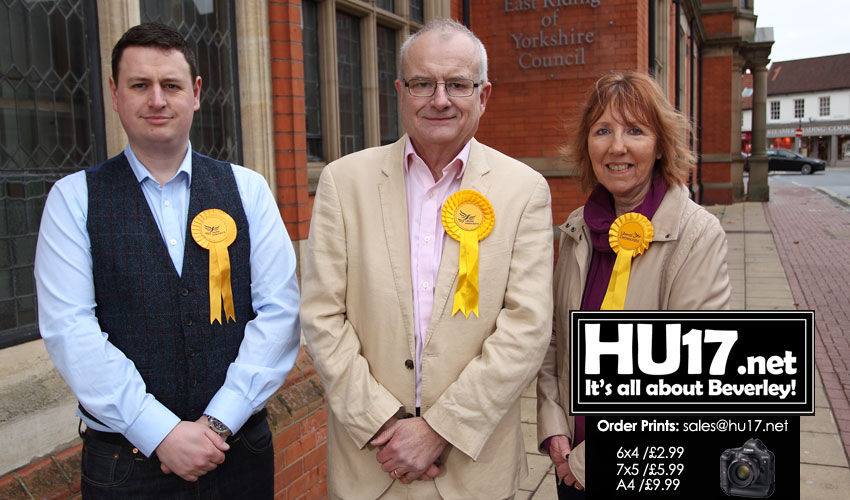 The Conservative Party have suffered a catastrophic defeat at the local elections in Beverley.
Results from the polls held on Thursday saw the Tories wiped out in Beverley's Historic Core. They were defeated in St Mary's while also been banished from Beverley Town Council.
In all the Tories lost 5 seats and will have no representation in the ward or on the parish council that oversees Beverley's Historic Core.
Their damming defeat came at the hands of the Liberal Democrats who smashed them at the polls. LibDems talisman Cllr Denis Healy polled over 3,000 despite a turnout of 42.7%
If losing St Mary's was not bad enough, the Conservatives have also been booted off Beverley Town Council with the LibDems winning 8 seats.
The night also looked like it was going to get a lot worse for the weak and wobbly tories. In Minster and Woodmansey, an area they were forecast to hold they only just got over the line.
In the run-up to the Polls, Labour was oozing with confidence and felt they had done enough to overturn the Conservatives in Minster Woodmansey.
Even the Conservative councillors and their supporters showed signs of nerves as the votes were counted. While the MP Graham Stuart told the BBC he was expecting a bad night.
Labour almost caused an unforeseen upset and was just 41 votes short of pinching a seat from the Tories. The closeness of the vote saw Labour call for a recount which was not given.
Liberal Democrats Control Of Beverley's Historic Core Should Act As Wake Up Call
The Conservative Party in Beverley certainly needs to take note of this wake-up call. They can look to blame a host of possible outside influences but many of the answers lay within.
An ever-changing demographic of people and the rise of the Liberal Democrats in East Yorkshire's capital makes for worrying times.
In the years to come, the Conservatives will be faced with the daunting task of finding candidates who are no longer guaranteed a seat at County Hall.
Indeed ones standing in St Mary's based on these results would face a total public humiliation.
With no seats on Beverley Town Council, no presence on Molescroft Parish Council the Conservative Party has been pushed back.
All this is a result of Cllr Healy who has shown the residents in Molescroft and in Beverley what having a fully functional councillor can do.
Now backed up with two colleagues in Linda Johnson and David Boynton residents can expect an even better service. A service the Tories have simply failed to supply for years.
As for The Conservatives, all they can do is look in and watch as an army of yellow occupies prime real estate in Beverley's Historic Core. A patch they once ruled from top to bottom.