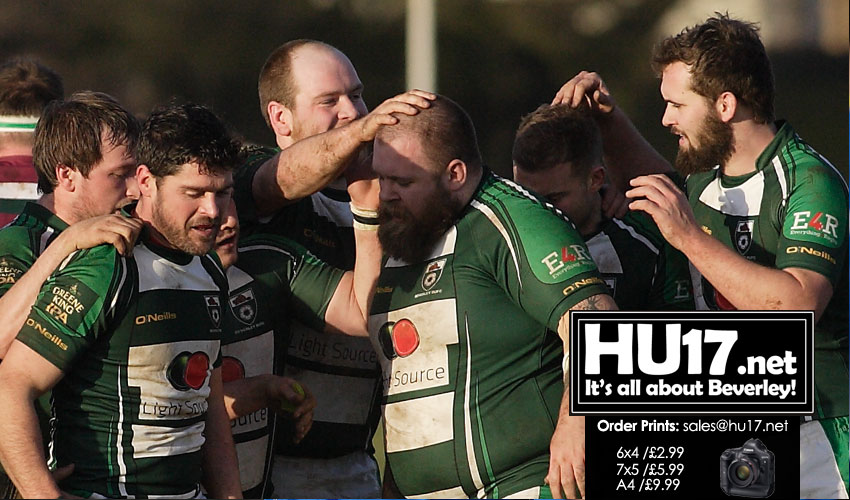 On a glorious sunny day with the pitch at Beaver Park looking in excellent condition, a good crowd were anticipating some good running rugby in the game between Champions York and a Beverley side seeking revenge for the single point defeat that they suffered at York on the opening day of the season last September. They were no to be disappointed!
York kicked off deep into the Beverley 22 and remained there until, after 2 minutes they were awarded a penalty. From the resulting line out, a sharp move resulted in a try under the posts which was converted to give York an early lead (0-7)
Things began to look ominous for Beverley when, after six minutes, another York penalty took the score to (0-10) and York were showing signs of why they were champions.
However, Beverley dusted themselves down and, at last managed to get hold of the ball and show that they had no intention of playing second fiddle to York. In fact the Beverley forwards were proving more than a match for York's much vaunted pack and began to impose themselves. After 15 minutes left winger Jacob Holmes went over for a try which Phil Duboulay converted to make it 7 points to 10.
After a further ten minutes of almost total dominance by the Beavers' forwards, quickly recycled ball went through several pairs of hands along the back line to James Graham on the right wing who touched down (12-10). Phil Duboulay duly converted to make it (14-10).
Three minutes later, veteran Junior Tupai, making a cameo appearance at centre for Beverley, slipped a beautiful pass to full back Luke Hazell, who raced away and through practically the whole York team and scored in the corner (19-0).
Things were looking a whole lot different for Beverley by now and , after 35 minutes Will Turnbull secured the bonus point with a try which Phil Duboulay again converted (26-10). Five minutes later Isaac Keighley went over for another and Phil Duboulay added the extras (33-10).
This completed the scoring for the first half during which, apart from the first ten minutes, Beverley had been totally dominant.
Five minutes into the second half Isaac Keighley scored his second try, again converted by Phil Duboulay (40-10). York hit back with a converted try to make it (40-17) but ,back came Beverley and, again showing his class, Junior Tupai fed Jacob Holmes who touched down (45-17). Phil Duboulay converted (47-17) and it was beginning to look like a rout!
Things looked even worse for York when,after 62 minutes, Beverley prop Matt Brown scored a fine try from a quickly taken tap penalty (52-17).
York came back with a converted try (52-24) and a final consolation try on 75 minutes (52-31). This comeback at least secured them a bonus point and restored some pride.
This was an outstanding performance from Beverley. All 15 players were at their best but Junior Tupai was voted man of the match by the match sponsors Hengate Pharmacy.
Final Score : Beverley RUFC 52 York 31 | Reported by Malcolm Cunningham