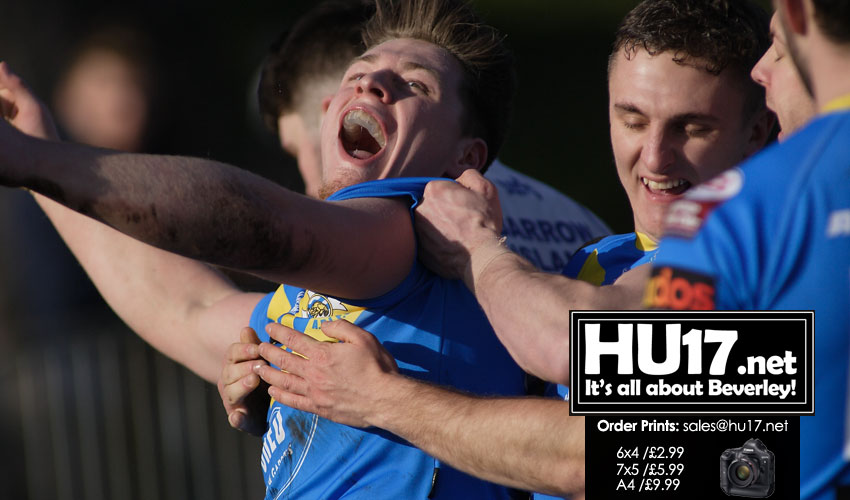 Beverley ARLC chalked up their sixth consecutive win as they beat Eastmoor Dragons 45-30 at the Beverley Leisure Centre to remain top of NCL division 3
Beverley now face a top of the table clash next weekend against Clock Face Miners who boast a similar 100% record. As has been the pattern in recent weeks, the blue and golds attacking machine has attempted to blow the opposition away very early on.
Beverley raced to a 35-12 interval lead with man of the match Alex Starling leading the charge going forward and Bobby Howdle, Will Thompson and Lee Stevens not too far behind. Behind that platform Lewis Straw and Lewis Poskitt launched an exciting three-quarter line.
Scott Taylor said;
"I could not fault the first half and certainly not 6 wins from 6 but maybe our concentration in defending sets close to our line let us down on a couple of occasions so we work on that going into next week's big game."
Beverley Leisure Centre was bathed in warm sunshine bringing out a big crowd to revel and both sides begun the game at a breakneck pace.
The blue and golds were first to trouble the scorers when a fumbled bomb saw Sam Brown pounce to score his second try in as many weeks after 7 minutes. Beverley answered some aggressive defending by the visitors with some deft handling to send the charging Alex Starling over very soon after.
There was a swift reply by Eastmoor as Adrian Mulcahy backed up a break to go over under the posts.
For Beverley,Tom Moor darted over from dummy half and very soon after Alex Starling added his second. Trevor Penrose cheekily added a drop-goal and with all the extras added, Beverley led 25-6 on 32 minutes.
Some breathtaking attacking play then followed as Peter Starling fed Sam Brown from deep. Mike Cooper in turn took a pass but was chased down. Then as the attacking raid continued the ball went to ground but was snatched by Billy Riby who touched down and the extras were added.
Lewis Kear replied for the visitors and they continued to press but a pass was intercepted by Lewis Straw whose pace did the rest over 70 meters. The extras were not added but it was a commanding lead for the home side at the break.
Eastmoor pressed early in the half the chasing Chris Johnson snatched the ball to put Beverley back on the attack. A line drop-out was forced and in the ensuing set Lewis Straw danced his way through defenders to touch down and convert his own score.
Eastmoor then enjoyed a far greater share of the game and really pegged the hosts back. Lewis Kear added his second and Ryan Kelsey then Mike Jedynak also touched down to create a little anxiety among the home support. All three scores were converted.
Lewis Straw settled the nerves by adding two penalty goals in the closing stages to seal the points for Beverley.
Final Score: Beverley 45 Eastmoor Dragons 30 | Reported by Nick Robinson