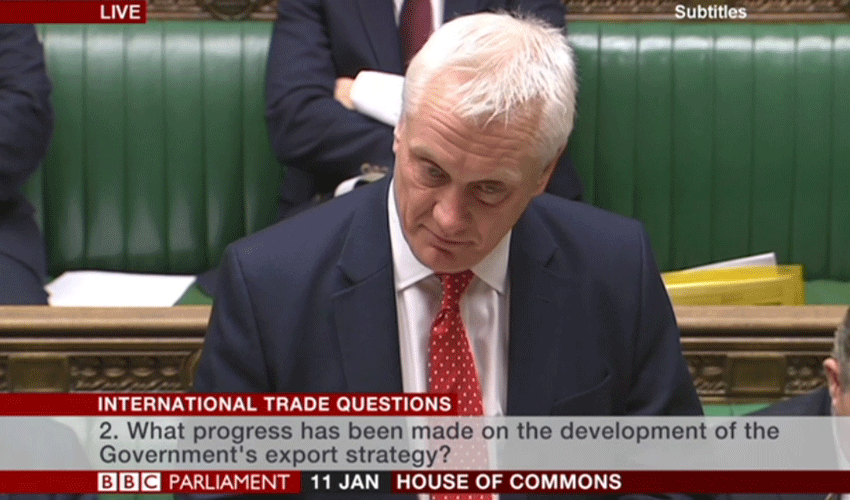 Beverley and Holderness MP, Graham Stuart, has made his debut at the Despatch Box following his appointment as Parliamentary Under-Secretary of State at the Department for International Trade.
Mr Stuart will play a key role in directing UK trade policy across the world in his new role as a Minister at one of the newest government departments in Westminster.
Commenting on his appointment Mr. Stuart offered assurances that his constituents will remain a top priority, he said;
"I am delighted by this opportunity to play a bigger role in the UK's trading relationships and help to secure our future prosperity."
"I am clear, however, that my constituents in Beverley and Holderness remain my top priority – they have been since I was elected in 2005 and that will not change."
Taking his place at the Despatch Box, at International Trade Questions Mr. Stuart first words were to say 'It was pleasure to join a government front bench full of fresh young talent, even I am not one myself.'
Speaking about his role, in a statement released he said;
"This new role, in an important and growing government department, will allow me to speak up for businesses and consumers in our area, who rely upon the UK's trading relationship with foreign partners for everything from a market for their goods to reducing the cost of their weekly supermarket shopping."
"As we leave the European Union, the UK's global trading relationships are more important than ever, and I will ensure that we in Beverley and Holderness are not left behind as the UK explores these exciting and wide-ranging opportunities."
A Member of Parliament since 2005 Mr. Stuart has proved to be a popular figure within the constituency and has played a key role is supporting a number of local incentives.
Throughout his career Mr. Stuart has been loyal to not only the government but also to the people who elect him to represent him under the conservative banner and also with regard to brexit.
Now he will lead on promoting investment in the UK by foreign partners, as well as overseeing the government's policy on direct investment abroad.
In the House of Commons, Mr Stuart outlined what the DIT was doing to help British exporters – including flexible currency purchasing – which will benefit a range of businesses across East Yorkshire that rely upon access to foreign markets.