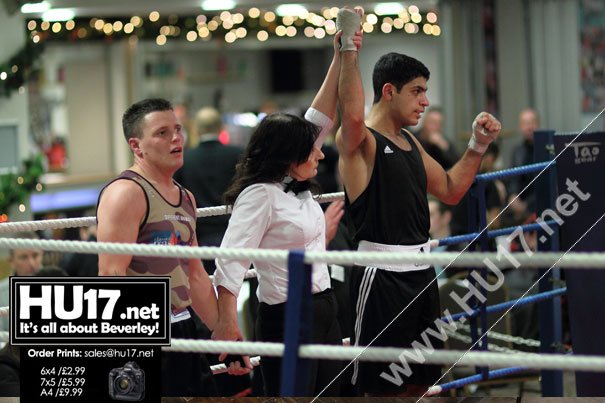 Yaseen Noorani, from Sheffield City Boxing Club says he was happy with the win against what he felt was a good opponent from Beverley.
Noorani (22) was speaking after his victory at the KC Stadium against Matthew Milnes (32) who was making his debut as an amateur fighter.
In an action-packed fight, Noorani was awarded the win by TKO after the referee stepped in to stop the fight mid-way through the third round following a Noorani onslaught.
Commenting on the contest, Noorani said;
"I thought it was a really good fight. I was very nervous before in the changing room but when I got into the ring. I felt calm and confident. The crowd was fantastic. I think, overall, it was a good contest."
When asked how he felt his Milnes performed in the fight he said;
"He was pretty good. He managed to land a few good shots on me, but I think he started getting a bit tired towards the end. It was a great effort by him, but I'm really happy with the win."
Milnes who first got involved with boxing to raise money for a children's charity has stuck with the sport, his fight with Noorani being his first one as an amateur.
Disappointed that he lost Milnes he has ruled out a return to the ring. Speaking about his fight with Noorani, he said;
"He had a big reach advantage over me, which was difficult to deal with. The only thing I could do was to take the fight to him and go toe to toe."
"I felt I gave as good as I got in the fight and thought I had got him in the second round, but he composed himself and came back well."
"By the third round, I was feeling tired, dropping my guard leaving myself exposed. His fitness then came into play, and he was able to keep going."
"Overall for me this has been a great experience and a big learning curve for me. Noorani was a tough opponent, and I wish him well for the future."