Officials, players and sponsors of Beverley RUFC gathered at the KC Stadium for the Sportmans' Dinner on Thursday.
The night was compared by the witty Malcolm Lord.  John Bentley, who has represented his country at the highest levels in both Rugby League and Rugby Union, was the Guest Speaker, and funny man Josh Daniels kept everyone entertained.
It was also a chance to bid farewell to 2009/2010 Players Player Richard Bussey. Bussey will return home to New Zealand after his three-year stay in the UK, though he will not be giving up the sport.
Beverley RUFC were presented with their CLUBMARK accreditation during the evening for achieving high standards as a club both on and off the pitch. The accreditation was presented by John Bentley to Andy Ellis, Chairman of the Junior Section.
John Bentley presents Andy Ellis (who needed a chair to stand on) with the Certification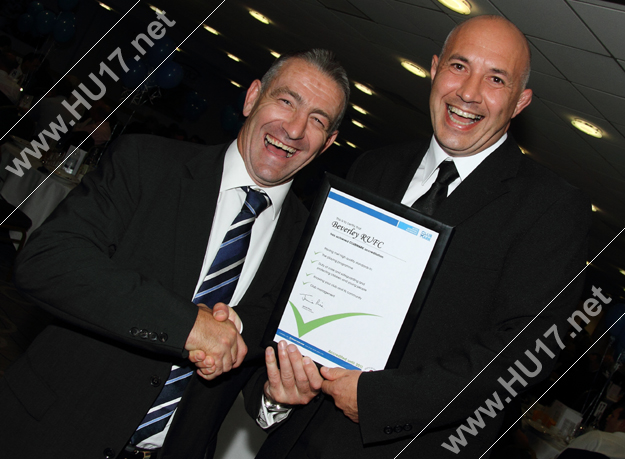 HU17.net Picture Gallery: Click on the thumbnail picture below to enlarge the image to full size
HU17.net Picture Gallery: Click on the thumbnail picture below to enlarge the image to full size