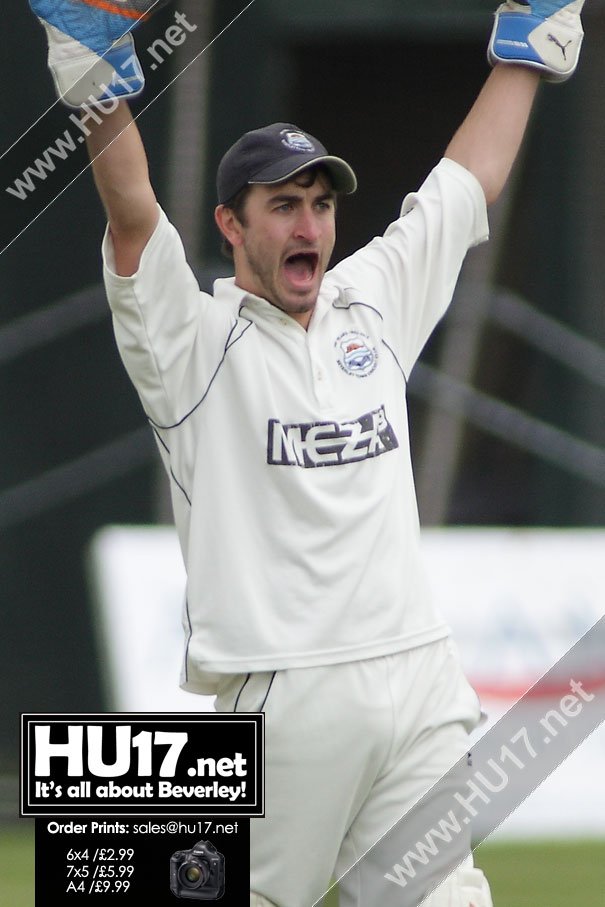 There is much more at stake this season in the Hunters York & District Senior Cricket League than winning the highly coveted league title, for the top six teams including Scarborough will be promoted to the newly created ECB Premier Yorkshire League North.
In the following seasons a process of two up and two down promotion and relegation will take place between the Y&DSCL, and the ECB Premier League. There's no doubting that there are exciting times ahead, but who will make the cut? The short answer is that any six out of the fourteen. Yes, you could pick two or three that are fairly certain to be thereabouts, but there is always a team that nobody has thought about, and of-course the good old weather could have a big say in deciding the outcome.
League Champions Woodhouse Grange are one of the few Premier Division sides not to have made any key player signings. They will rely on a plethora of fine players including Nick Hadfield, Mike Burdett, Chris Bilton, and Andrew Bilton amongst others. In Steve Burdett they have a quality leader, and leading bowler. A return to fitness for Tom Quinn will be a big bonus, and with Tom Young they have one of the best up and coming young all-rounders in the league.
Newly promoted Acomb have strengthened up with the signing of Andrew Brewster from Bolton Percy who took 34 wickets in Division One last season, and will form a more than useful bowling attack with skipper Andy Tute, Mark Bell, Dave Sykes, and Simon Brown. Other signings are Matt Cox from Leicester Ivanhoe in the Leicester & Rutland league, and Mike Dennett from Prestwich Cricket Club. Joe and Matt Dale contributed over 1000 runs between them in 2014, and will look to add to that contribution this term.
Beverley Town will once again have Jon Fisher at the helm, and will be keen to improve on their 7th place last season. William Roobottom has joined from Lullington Park, whilst only a young player he scored 649 runs for his club last year.
Like the League Champions, Clifton Alliance will be relying on a strong existing squad who are again under the captaincy of John Gilham. Rich Carroll took 39 wickets last season, with Joe Ashdown weighing in with just over 500 runs.
Dunnington narrowly avoided relegation in 2014, but have made a couple of quality signings in opening bowler Jake Murphy who joins from York, and the very significant re-signing of popular batsman Harwood Williams, who returns to the club after a season away in the Central Yorkshire League at Caribbean CC. Leading batsman Jack Bolam will lead the side which will still include former West Indies test player Collis King, and will almost certainly improve on last season's placing.
Easingwold are again led by Martin Piercy who has returned to fitness following a bad injury towards the end of last season. The club have made some late signings in Toby Wells from Sessay, and George Barker from Pickering. They'll add to an experienced line up including Stephen Piercy, Dan Copeland amongst others. Paul Skilbeck is still very capable of influencing matches with both bat and ball.
Fenner finished in an impressive fourth place last season, and will do well to retain their position as rival teams have added to their squads. In Steve Sergeant they have one of the top bowlers in the League, but will not be happy with the loss of spinner Stephen Croft to Sheriff Hutton Bridge. Leading run scorer last term Ross Davy will be looking to improve on his 500 plus runs for the much improved Marfleet based outfit.
Reigning Division One champions Heworth will be looking to capitalise on a highly successful 2014 in a year that also saw them lift the Readman Trophy. Oliver Sherwood topped the clubs batting as they beat Acomb to the title, and their bowling looks good with Dan Walton, Richard Walton, Tom Neal, and Will Peet leading the way.
At Chanterlands Avenue Hull Zingari remain fairly unchanged for this year's campaign with Alistair Markham continuing as skipper. Matty Bunn scored the most runs and was leading wicket taker a year ago, but they do have experienced campaigners in Guy Martinson and Andy Hamson. Wicket keeper Nick Biggs seems to have been around forever doing a solid job, whilst Matty Scarr was one of the finalists in last years 'Top Gun' fast bowler competition.
At North Marine Road, Scarborough has undergone a massive transformation after joining from the Yorkshire League. Neil Elvidge has moved from Folkton & Flixton to head up the on-field operations, including taking over as captain. New players include Mark Cowell (Bedale), Charlie Roberts (Bedale), Matthew Watson (Malton & Old Malton), Alex Carrie (Heslerton), Kristian Wilkinson (Heslerton), Lewis Brearley (Fylingdales), David Brannan (Filey), and Mark Tennant (Sewerby).
They do also have one of the most successful batsmen in the Yorkshire League in Darren Harland, but perhaps the most influential player may be Ryan Gibson, who has arrived from the YCCC Academy where he played a major part in them winning last year's league title. His participation may be dependent on Yorkshire 1st XI appearances, particularly early on when the county have many players away on England duty. However when he does play, he will make a difference.
Another club to have a county player amongst their ranks is Studley Royal, who have welcomed back bowler Ben Coad after a spell at York. Again his appearances may depend on county call-ups, but he will certainly make a major difference to the club who won the Hunters Cup in 2014. Rob Nicholson is at the helm again, and scored most runs for them last year. He has the experience of Steve Walmsley and Rob Mackle to call upon, whilst Dan Craven is a very good all-rounder.
Stamford Bridge are the third club to have the services of a Yorkshire player to call upon with former England U19 captain Will Rhodes available for the whole season subject to being required by Yorkshire's first team. Matt Beckett's side have also added Rich Robinson from Sewerby, and Charlie Wilson from Pocklington.
Dom Rhodes scored just shy of 800 runs in 2014, and took 30 plus wickets, and was well supported by Luke Robinson in the bowling department. The Low Catton Road based outfit have received a further boost with Australian born batsman Stuart Boyle re-joining the club he first played for 13 years ago. Boyle, who lives in Appleton Roebuck, had a successful season with the club back in 2002 when they were in Division One. Paul Milner can also contribute useful runs, whilst the excellent Kev Murphy adds stability in that wily campaigner role.
Yet another club with a county player amongst their ranks is Sheriff Hutton Bridge, who are not likely to see much of Matt Fisher this year, if at all. Another player that may be missing is Ed Barnes, who is likely to be required by the YCCC Academy and one of the England age group sides. They have made several more than useful signings in Russ Robinson from Sewerby, Louis Foxton from Harrogate, and Stephen Croft from Fenner.
The former was the league's top all-rounder in 2013 whilst the latter bagged 25 wickets in a limited number of matches last term. Mark Fisher's 40 plus wickets twelve months ago and his valuable 400 plus runs make him a player to watch, whilst his captain, and brother Adam added nigh on 800 runs. Rob Pinder weighed in with in excess of 600 runs whilst Ben Harrison seemed to slip under the radar bagging 38 wickets.
Another club to narrowly avoid the dreaded drop last year was York, who have lost a couple of players, but have added Darren Harris from Osbaldwick. The Shipton Road based club are the only team in the top flight who know that they will be in the same division next year due to the fact that there will be no relegations, and they cannot achieve promotion because their 1st XI already occupy a place in the Yorkshire League.
In Division One effect of teams moving into the new Premier League will enable four teams to be promoted with one of the favourites likely to be Sessay, who narrowly missed out on promotion last time around when results went against them on the very last day of the season.
They have had a change of captaincy with Mark Wilkie taking over, but the massive plus for them is the signing of the prolific Simon Mason from Woodlands in the Bradford League. Mason scored over 1000 runs in four of his last five seasons during a spell with York a few years back. Folkton & Flixton, Pickering, and Goole were all fairly close last year, so you can expect to see them there or thereabouts.
In Division Two North Duncombe Park and Harrogate were not far off promotion a year ago, and should be expected to challenge again. Ripon have made a number of signings, but other teams look strong too, so it'll be a very open contest. In the Southern Division Hornsea, Patrington, and Acomb II just missed out on going up, but with the York based side now in the Northern division, the challenge may come from Woodhouse Grange II. The effect of Hull re-joining the Yorkshire League may well be felt by their side in this division, but they will have additional players following the merger with Hilltop.
In Division Three North Sessay were unlucky to miss out last term, so you can expect them to go close again. However, the Sothern section contains clubs who have made multiple signings. Scarborough have a new captain in Mark Cowell, who has joined from Bedale. He'll be joined by a number of other recent signings to compliment the useful squad already in place.
Hemingbrough have also been amongst the signings, with both Matty Clark and Tom Collins re-joining the club from Selby, and Matthew Whitaker making the move from Eggborough in the Pontefract League. Cottingham, Sutton-On-Hull, and Carlton Towers will also be more than useful.