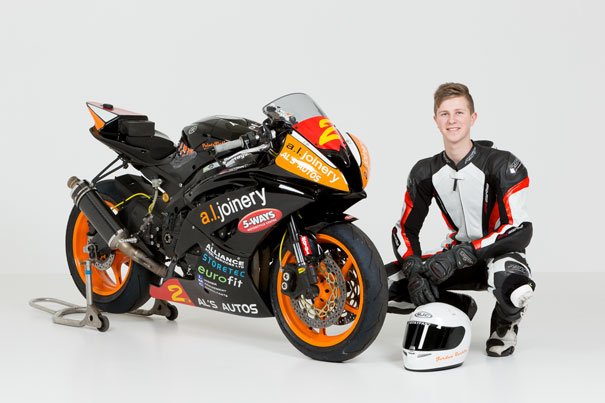 Beverley teenager Jordan Rushby, just 16, is preparing for his first full season riding for the A I Joinery Racing team in the Thundersport  (GB) National Championship, riding a Yamaha YZFR6 Superstock bike, prepared by Alan Tanton of Al's Autos.
It's a step up for Rushby, following a season in the NG Road Racing Minitwin Championship, which saw him move from two-stroke bikes to the more powerful four-stroke minitwin.
Competing in 10 out of the 15 races, he managed a commendable fifth place in the overall standings, and such was his improvement over the course of the season the decision was taken, on his 16th birthday, to concentrate on testing the R6 in preparation for his move up to the next level.
He managed two podium places in the World Superbikes Minitiwin support race at Donnington, in a season where he placed himself firmly in the category of most promising riders.
Prior to 2013, Rushby rode an Aprilia RS 125, winning the Derby Phoenix F125cc Championship in 2012 and the Darley Moor Trevor Foxley Memorial Trophy in 2011.
Rushby has moved up the ranks rapidly since riding his first bike – a Yamaha PW50 – aged just four.
Aged six, he got his first MiniMoto and proved his durability when, with a broken wrist, he finished second in his just his second ever competitive race.
Sponsorship opportunities are available for to help this talented young man continue to rise through the ranks.
Visit www.jordanrushby.co.uk for details.
Thundersport (GB) 2014 Championship Calendar:
March 7-9: Brands Hatch
April 11-13: Donnington Park
May 3-5: Snetteron 200
May 24-26: Cadwell Park
June 20-21: Oulton Park
July 25-27: Rockingham
August 23-25: Anglesey
September 26-28: Donnington Park National
October 17-19: New Mallory Park