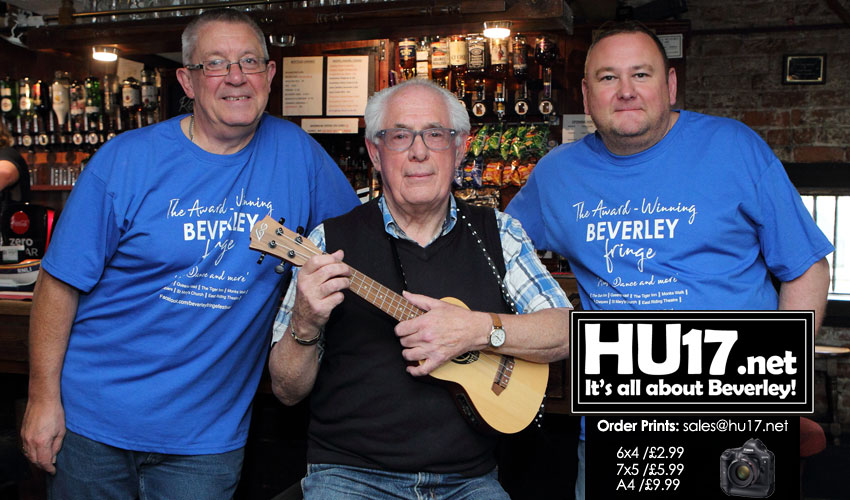 Beverley Fringe Festival got underway at the Sun Inn with the popular venue hosting a number of Ukulele bands.
Groups from across the region were at the Sun Inn however it was the 'home band' who got proceedings underway.
Roy Dyson is organising the Ukulele sessions on behalf of the Beverley Fringe Festival. Speaking to HU17.net he said;
"We feel privileged to be playing at the Sun Inn. It is one of the top music venues on the East Coast. We have groups from Beverley, Cottingham, Howden and also Pocklington."
"It is vital that this fringe festival has brought back into the town. The biggest mistake the Beverley Folk Festival made was moving to the racecourse."
"They wanted control of everything, the food, the venues and the drinks. Beverley its self was then cut out of the picture. They started charging hundreds of pounds per ticket.
"So what we are doing is bringing it back to the people by taking it back to the 70s and 80s. Anywhere you go within Beverley during the event there will be music going on."
"It is not just folk music, there are also jazz acts and all sorts of other types of music."
Sun Inn Home To Beverley's Weekly Ukulele Group
Richard Price Licensee of the Sun Inn said;
"We have hosted the 'World Ukulele Championship' which a bit of a light-hearted event. It was started by Roy and Lynne around 4 years ago."
"Over that time it has gained more interest so we have a number of groups taking part this year from all over the East Riding."
"Most of all it is a bit of fun and people getting together and also having a good play."
The Sun Inn has its own Ukulele group which meets each Monday at the venue. Richard says as a result of those sessions some groups have been formed which now perform within the region.
Beverley Fringe Festival Has Gone Back To Basics
Richard also says that music is a vital part of the venue he runs in Beverley. He said;
"This venue has always been a music pub. It is important for the town to have a venue for those who want to say get away from watching sport."
"There is a great live music scene in Beverley with lots of young talent coming through. Also, there is plenty of experienced talent and people just want to find somewhere to come and play."
Richard says that while the Folk Festival was focused around the town things changed with the move. He now feels the Beverley Fringe Festival is filling the void left.
He said;
"This year because we had more time to organise things there is more on. The event is in its second year and is bigger and better."
"What the Beverley Fringe Festival has done is simply gone back to basics. Getting people together who play in events that are mainly free of charge."