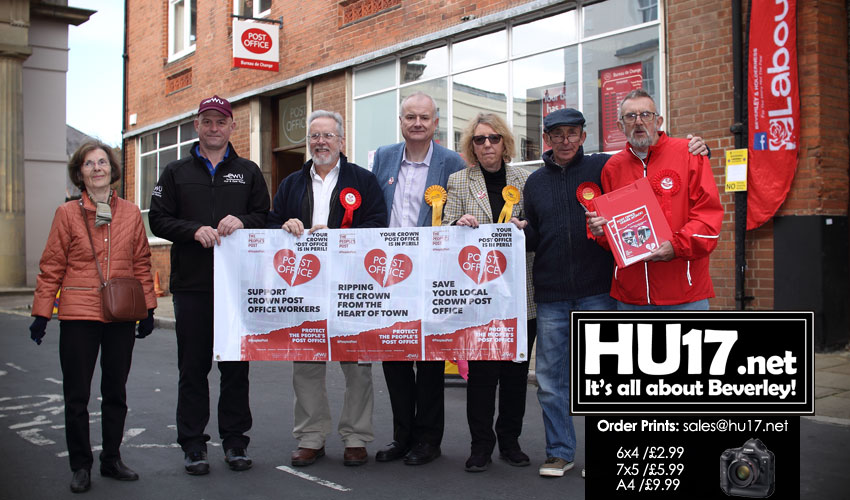 Labour Party and local LibDem members were united on Saturday as they staged a protest to save Beverley Post Office from closure.
Representatives of from both parties were in Beverley town centre collecting signatures for their petitions to save the post office.
While Labour and the Libdems were out canvassing the public, there was no sign of any members of the local Conservative Party.
Cllr Healy said the protest went well with members of the public, speaking to HU17.net he said;
"Saturday went well. We managed to collect a few hundred more signatures for our petition. Labour was also collecting signatures. It does not matter which one people sign as they are both for the same reason."
"Public support was high. They were pleased to see political parties working together. They were telling us this how it should be. It was a shame the Conservatives were not there. They are the only party who could do something about this."
Protest Reveals Who The Public Blame For Potential Post Office Closure
As a result of the protest Cllr Healy learned a lot about how the public feels about the proposed closure, he said;
"First of all people are blaming the government for this. They are above all concerned that as Beverley grows the facilities are being diminished. People know this is not just happening here in Beverley but also across the country."
"People see this as a loss of yet another amenity from the town. Some were using words like 'stupid' to describe plans to relocate the Post Office to WH Smith."
Speaking about the protest held in Beverley, Labour's George McManus said;
"We are all here united for one cause. No one, in particular, was invited. If the Conservatives wanted to join us they would be welcome. Why they are not here you will have to ask them."
"Closing this site this site is scandalous. The main post office in Beverley is a crown-owned site which is heavily used and has provided an excellent service to the people of Beverley for many years."
"WH Smith is a private business which is going through real difficulties. Taxpayer's money should not be spent at the expense of an excellent service in order to prop up a private company."
"I would urge everyone to sign a petition."