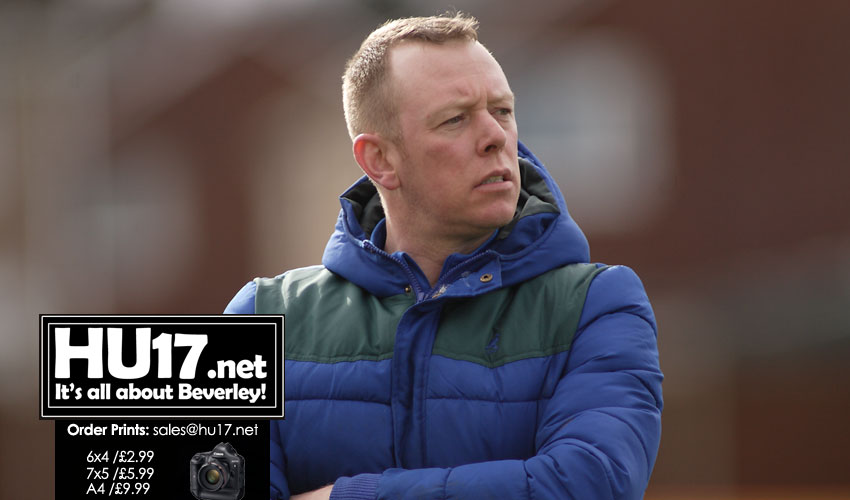 Beverley Town Football Club returned to Hutton Cranswick for the last game of their Humber Premier League season, looking to finish on a high and take their run of unbeaten games to 8.
Conditions were wet, but the pitch was in good condition and both teams looked to get the ball down and play.
Town started well, passing the ball around nicely and looking to get wide. It took only 9 minutes for Town to go ahead, when Craig Muirhead was clumsily tripped by the Scullys keeper in the box, he picked himself up and rifled home to make it 1-0 to Town.
Both teams created chances, but Town looked the more likely team to score again. Alex Stark went close on a couple of occasions, and Nathan White shot just wide after a good move through the middle. Niall Ringrose used his pace well on a number of occasions to take on Scullys full back, but the final finishing touch wouldn't come.
The second half started in the same vein, some good passing on show in deteriorating conditions. Joe Norton on Towns left flank had two good efforts on goal, and Kegan Rose was shooting on sight in an attempt to get his first goal of the season.
Scullys however were always dangerous at 1-0 down, and keeper Matty Spencer had to pull off a couple of fine saves to keep Town ahead.
With 3 minutes to go Scullys piled on the pressure. Firstly a shot on goal from a free kick was blocked by the wall, then with the last kick of the game Scullys broke through on goal. Keeper Spencer came out to deal with the shot, and got a strong hand to tip the ball just over the bar and away to safety. From the resulting corner the referee blew his whistle and the game ended 1-0 to Town.
Beverley Town's Manager, Rich Jagger said;
"I am really pleased that we finished the season with a win, and also a run of 8 games unbeaten. The lads have been fantastic this season, we started slowly, but since October we have only lost three league games, and really found our rhythm. We will finish 4th at worse, which (apart from when we won the league)is our highest league finish. We will have a good couple of months rest and come back looking to challenge next season."