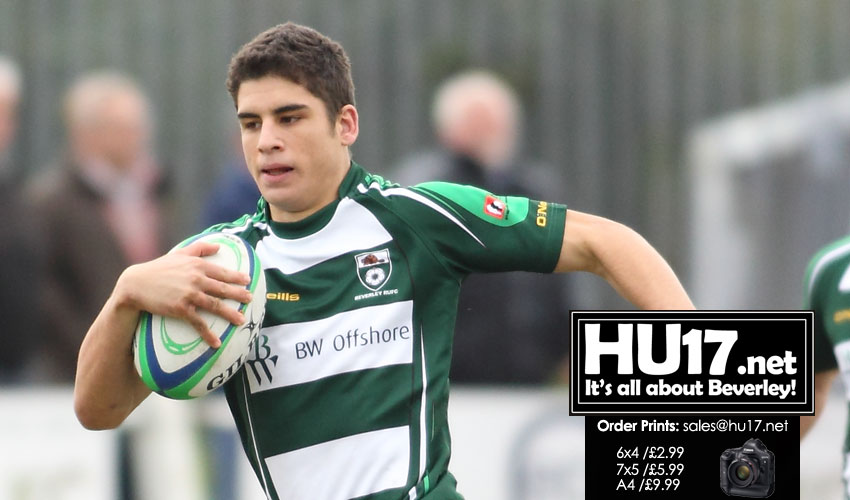 An excellent game this between two evenly matched sides played in a good spirit by both sides.
Beverley RUFC , playing down the considerable slope and with the wind behind, immediately took advantage and mounted siege on the Brod's line. After three minutes No 8 Isaac Keighley crashed over for a try which skipper Phil Duboulay duly converted to make the score 0-7.
A further spell of Beverley pressure continued to stretch the Brod's defence and after 10 minutes full back Luke Hazell weaved his way through it to touch down for a great try again converted by Phil Duboulay, (0-14).
Brods suddenly came alive and, prompted by some excellent decision making and elusive running by Kiwi fly half Gareth Newman, mounted a series of attacks on the Beverley line.
These led to a series of penalties for Brods as the Beavers tried desperately to keep them out. but eventually, the referee lost patience and Will Harrison was yellow carded. From the resulting penalty Gareth Newman made ground and fed winger Tom Kill who scored out wide. (5-14).
Ten minutes later, after almost continuous pressure, Brod's flanker Richard Stokes broke to score in the corner and make the half time score 10-14. Unusually, during the final 15 minutes of this first half, Beverley could not get their hands on the ball and their supporters had the uneasy feeling that they had not scored enough points to keep out the revitalised Brods backs when they had the slope and wind behind them after the break.
Things looked ominous straight away when, within a minute of the re-start, Brod's full back Chris Vine made a smart interception on the half way line and was through the Beaver's defence before anyone could lay a hand on him to give them the lead for the first time. Oliver Ackroyd converted and it was 17-14.
Strangely, Beverley were enjoying some possession again whilst playing uphill and after 50 minutes scrum half Will Harrison dived over from a maul on the line to restore his side's lead. Phil Duboulay converted and it was 17-21.
For twenty minutes play was largely in midfield but, eventually, tight head prop Bennie Pritchett, displaying a ridiculous turn speed, broke through to score an excellent try to retake the lead for Brods.
Beverley scrum half Will Harrison had to leave the field with damaged ribs with 5 minutes remaining and Brods took advantage of the disruption to score a final try to make the score 21-27.
Brods just about deserved their victory but Beverley were a little unlucky to lose.
However, they did pick up a losing bonus point and, on this display, both sides should be finishing well up the table at the end of the season.
Final Score : Old Brodleians 27 Beverley RUFC 21 | Reported by Malcolm Cunningham