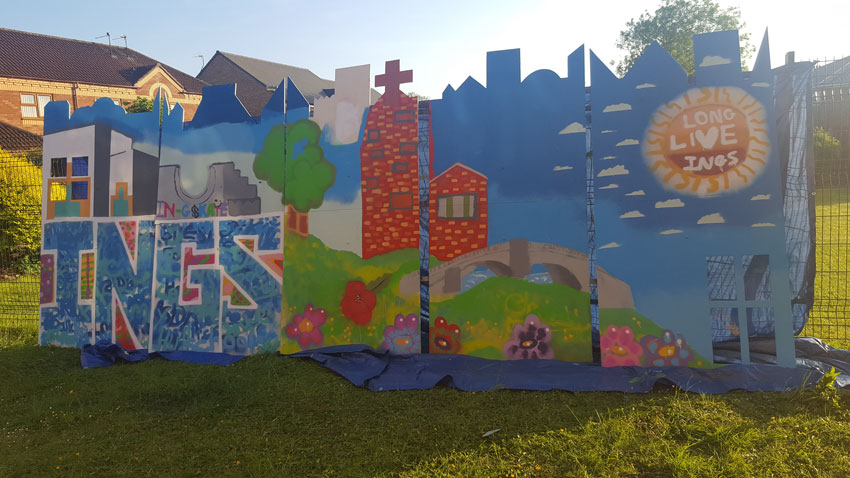 Different generations are coming together to share their stories using art.
Young people in the Ings area of Hull have created a graffiti mural which will go on display as part of a creative and memorable pop-up exhibition this weekend.
PresentINGS, organised by Maxlife as part of Hull UK City of Culture 2017's Creative Communities Programme, is an opportunity for the Ings community to come together and remember its past, mark the present and observe the future.
The event, at Kingston Wesley Church on June 24, will tell different stories of the area through the voices of its residents using graffiti art, photography & digital media.
Spray Creative – a group of local graffiti artists – have been working with young people to produce a giant mural for the event.
The project has also been supported by Ings Newground, Ings Plus, Ings Primary, John Hemingway Handyman Services and Kingston Wesley Church.
On June 24 Spray Creative and the young artists will unveil the mural, and stories from older generations in the area will also be told by children from Ings Primary School.
There will also be photographs on display showing how the Ings area has changed over the years.
People can pop in anytime between 1pm and 4pm to see the exhibition and enjoy a buffet provided by Ings Plus Resource Centre.
Paul Spooner from Maxlife, said: "PresentINGS is a golden opportunity to celebrate the Ings Area, its past, its present and its community.
"It's a good news story among too many bad news stories and it's a story that will be added to as time goes on."
Kingston Wesley Methodist Church is situated at 882 Holderness Road, next to Tesco Express and has disabled access.
Martin Green, Director of Hull 2017, said: "Hull is full of diverse and proud communities and it's wonderful to see so many coming together to celebrate their history and identity.
"Our Creative Communities Programme is bringing events to people's doorstops ensuring that everyone has the chance to take part in this amazing year for the city."