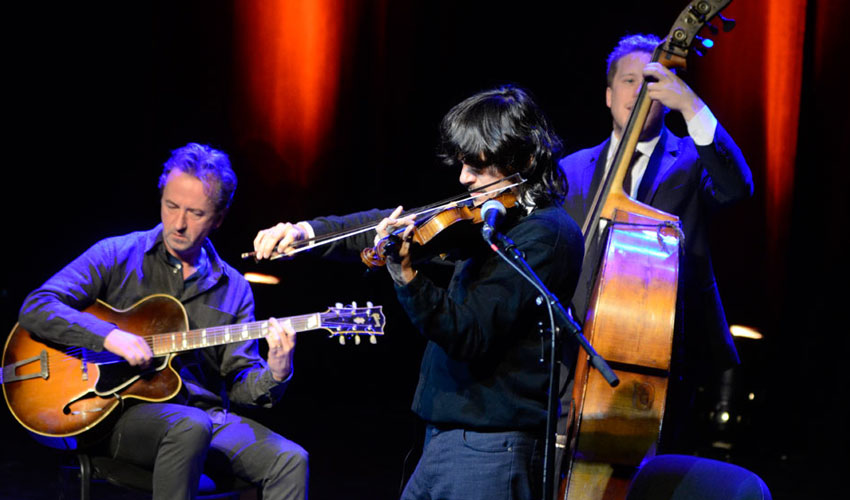 The Stage4Beverley festival has made a major scoup by bringing this stunning Gypsy jazz group to the town as a part of its programme, making it a truly international event.
Mozes Rosenberg the most recent guitar genius from the Rosenberg dynasty and younger brother of Stochelo is the guest of the violin superstar Tcha Limberger and his trio with Dave Kelbie on guitar (UK) and bassist Sebastien Girardot (FR).
Put Tcha Limberger, recently accorded the title 'The polymath king of Gypsy music' by The Sunday Times, and a spectacular guitarist himself, on stage with Mozes Rosenberg and you get something close to Gypsy jazz royalty.
Since picking up his first instrument the guitar, composer, singer and multi-instrumentalist Tcha Limberger is one of a handful of world class musicians to have become accepted and respected in a style of music culturally not their own.
His nurturing approach to teaching almost forgotten traditional musics has made him one of the most prominent and 'important figures in folk music of the Carpathian Basin'. For this he has received unparalleled praise worldwide from professionals and public alike. Critics remarking on his achievements have claimed he is 'entirely made of music', 'The Polymath king of Gypsy music', whilst musician colleagues refer to him as 'the fifth
element.
Born into a renowned Belgian family of Manouche musicians, Limberger grew up in a world of the Gypsy swing style of Django Reinhardt, and over the years has collaborated with many of its leading performers, including the celebrated Fapy Lafertin. His eclectic musical tastes, interests and passions were formed from early childhood with his first solo concerts singing Flamenco whilst accompanying himself on guitar when aged just eight.
Tcha is recognized as both an exceptional and enthusiastic teacher who frequently holds masterclasses and leads interactive workshops encompassing both jazz and Central European folk music.
Tcha will be leading a workshop after his concert performance on Sunday on Violin and Gypsy swing styles of Central and Eastern Europe. It will be relevant to all instrumentalist but in particular string players.
It will look at the Manouche style of playing and the playing of Django Rheinhart, and cover rhythms, the interpretation of melodies, harmonies and much more. It will teach the music in the traditional style, by ear, with no musical notations.
Supporting the Tcha Limberger Trio will be the young band from York "Stillhouse" who perform progressive acoustic music at its finest. They are a mandolin, guitar, double bass and vocal trio ensemble, presenting beautifully crafted original songs and meticulously arranged instrumental material with roots in bluegrass, jazz and folk.