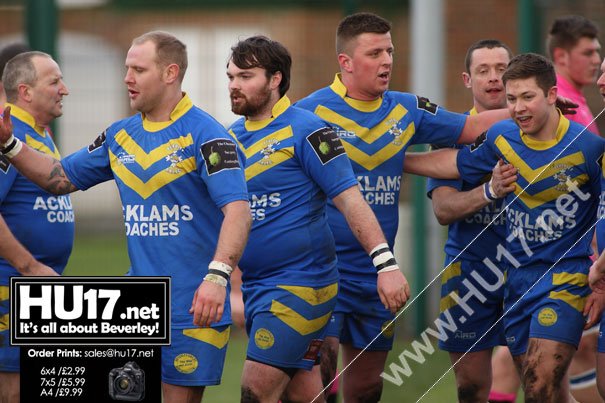 The blue golds will commence their 2016 season this Saturday 5th March. They are away to Norland Sharks in the 40/20 cup.
It will be the first meeting between the two sides since they both quit the Hull & District League in 2015.
Beverley were champions of Division One (unofficially) and Norland were champions of the Premier Division and were awarded the team of the year in recognition of their achievements.
Beverley went straight into Yorkshire Division One whilst Norland played just three fixtures in the entry league, of which they were far too strong for the opposition that was put in front of them, and have since spent almost nine months away from the game.
After two pre- season friendlies of which one was won and one was lost Beverley will be pleased to see their season proper get underway.
The key to a successful season could well depend upon their half back combination. New signing Jimmy Walker looks to have developed a good understanding with existing half back Lewis Poskitt, whose kicking game will also be a key weapon in Beverley's armoury.
Saturday's game kicks off at 2.30pm at Sirius Academy,Pickering Road.
March
5th Norland Sharks 40/20 Cup Away
12th Bentley 40/20 Cup Home
19th Oulton Raiders 40/20 Cup Away
26th York Locomotive 40/20 Cup Home
April
2nd 40/20 Cup Semi Final
9th Sharlston Rovers Away
16th York Acorn 'a' Home
23rd Norland Sharks Away
30th West Bowling Home
May
7th Doncaster Toll Bar Away
14th Illingworth Away
21st Hull Wyke Home
June
4th Mirfield Stags Away
11th Siddal 'a' Home
18th Illingworth Home
July
2nd West Bowling Away
9th Mirfield Stags Home
23rd Siddal 'a' Away
30th Doncaster Toll Bar Home
August
13th Hull Wyke Away
20th Norland Sharks Home
September
3rd Sharlston Rovers Home
10th York Acorn 'a' Away
17th Top 4 Play Off Semi Final
24th Top Four Grand Final
All Games Will Kick Off At 2.30pm. The Yorkshire Premier League Starting April 9th.