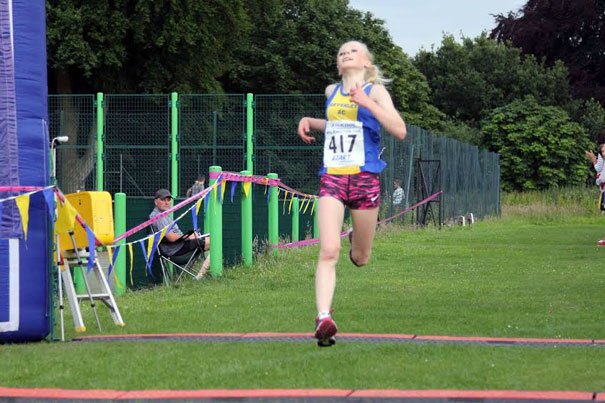 Becky Briggs was Beverley Athletic Club's star performer at last Friday evening's Airkool Walkington 10k road race, winning the women's race and taking 31st place overall in the event.
Fresh from also winning the Withernsea 5 mile race the previous weekend, Briggs posted a time at Walkington of 40:33. Second and third fastest women were Sian Morgan (Driffield Striders) and Niki Whitaker (City of Hull AC), recording respective times of 42:32 and 42:50. Beverley's 2nd and 3rd female runners were Emma Greensmith (45:01), who was second in her FV40 age group, and (Rebecca Burge 46:40). Claire Gardiner also ran well to win in her FV35 age group, recording 49:23.
In the men's race, the fastest runner was once again Michael Hargreaves (East Hull Harriers), who completed the course in 33:42, a few seconds faster than last year. Behind him, closely fought second and third places were taken by Gregan Clarkson (Kington upon Hull AC) in 33:50, and Phill Taylor (Bridlington Road Runners) in 33:58. Beverley's first runner to cross the line in 38:04 was Lewis Holloway, after a last minute sprint finish with Darren Edge. Holloway was 11th overall, and first in his V45 age group. Edge followed just two seconds later in 38:06, second in the V45 group. Third man for Beverley was Mark Dalton, finishing in 39:42 and also second in his V50 age group. Other Beverley runners performing well included Edd Lisney, who came in 30th place with a time 40:22, taking 1:44 from his previous 10k personal best, and improving on last year's time at Walkington by nearly 5 minutes.
The race was organised by Beverley Athletic Club. A good field of 512 runners completed the undulating course, which heads out into the countryside from Walkington, returning via Little Weighton, before finishing with a lap of Walkington playing field. Conditions were tough for running, being hot and humid throughout, and many runners found that their times were a little slow as a result. The race was as well supported as usual with plenty of spectators in both Walkington and Little Weighton out to cheer the runners on. The Walkington 10k traditionally has a friendly and relaxed atmosphere, and to aid their recovery runners could indulge in cakes and drinks provided by Beverley AC members and sold at a stall to raise funds for local young runners.
Before the 10k race, a massive 183 runners took part in a tough mixed-terrain 1.7 mile fun run, which finished with the same lap of the playing field. They included 14 Beverley AC junior members, who took 5 of the top 10 places in this race, and also provided the and girls' winners. The boy's race was a tie between Joshua Drury and Kyle Richardson (Scarborough AC), who finished together in 9:46. Close behind were Beverley's Taylor Arnott and Jacob Chastney in 10:02 and 10:17 respectively. The first three female finishers were all provided by Beverley AC. First was Chloe Broadbent in 11:59, with Erin Glover finishing 10 seconds later. Isabelle Horrocks was third in 12:44. For many, including a whole bunch of Walkington Rainbow Guides, this would have been their first experience of running a race, and they finished with proud smiles to receive their medals.
The next race organised by Beverley Athletic Club is the third College Canter, sponsored by Pittaway Painting and Decorating Contractors, which will be held at Bishop Burton College on Sunday September 27. The event will include off-road races of around 3 and 7 miles. Previous College Canters have been very successful and this year's event will continue to provide an interesting race for runners of all levels. Full details are available from the Club website.
Beverley AC times (Walkington 10k): Lewis Holloway 38:04; Darren Edge 38:06; Mark Dalton 39:22; Curtis Arnott 39:27; Steve Peacock 39:56; Edward Lisney 40:22; Becky Briggs 40:33; Peter Fielding-Smith 41:04; Matthew Horrocks 41:46; David Morrison 42:01; David Brown 43:09; Jordan Arnott 43:55; Emma Greensmith 45:01; Graeme Pittaway 46:23; Rebecca Burge 46:40; Miranda Hunt 47:30; Jody Horth 47:49; Sandy Milson 48:02; Gareth Botterill 48:46; Simon Pick 48:39; Clare Gardiner 48:52: Linda Wright 49:34; Dan Hammond 50:21; Fiona Oakes 51:27; Rachel Sullivan 51:19; Neil Sargeant 52:29; Eleanor Boyd 52:16; Chris Elvidge 52:55; Allison Stabler 55:44; Stephen Ogden 56:11; David Robinson 57:12; Elaine Julian 1:00:20; Amanda Jayne Ritchie 1:00:25; Kay Farrow 1:01:38; Caitriona Williamson 1:05:26; Dayna Arnott 1:05:57; Sarah Tock 1:05:51; Francesca Brittain 1:06:26
Beverley AC times (Walkington Fun Run): Taylor Arnott 10:02; Jacob Chastney 10:17; Jonathan Dennison 10:35; Aiden Glover 10:43; Greg Jackson 10:52; Guy Harbridge 11:45; Chloe Broadbent 11:59; Erin Glover 12:09; Bailey Jenkinson 12:12; Isabelle Horrocks 12:44; Jack Marsay 13:02; Emily Peacock 14:46; Ryan Broadbent 14:47; Dan Hammond 23:29