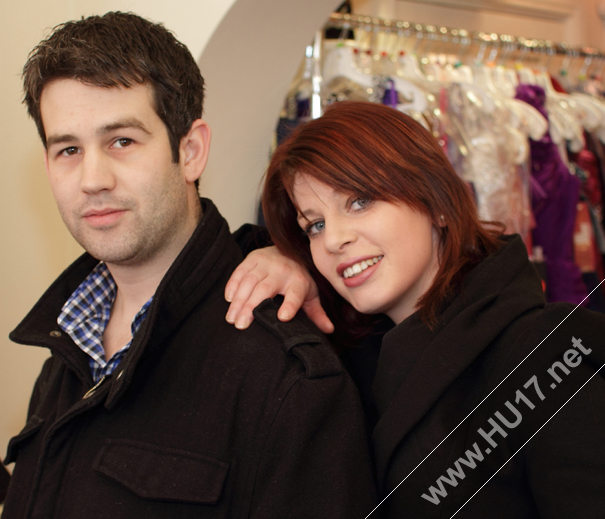 Beautiful Freaks Modelling is a brand new agency set up by partners Kirsty Mills and Ben Fisher. The agency provides models for magazine shoots, catwalk shows, promotional and corporate events and their books feature a variety of models in different shapes and sizes and catering for different tastes from prom girls to glamour and fetishists.
The idea for the business originated when Kirsty was helping her mum, Jan with a promotional event for her business, Fairy Godmothers.  Kirsty says: "To begin with I was asking around friends to help out with modelling the gowns. Then I began looking further afield and spotted the potential in girls that were the right height and frame.  This was when I saw a gap in the market for an agency."
The main points Kirsty looks for in a model are height, frame and most importantly confidence. "You can have a really beautiful girl but if she is camera shy then she doesn't have the ability to model. What we look for are girls that really come alive in front of the camera and have the right poise, grace and attitude." The modelling industry is renowned for promoting 'size zero' girls but Beautiful Freaks Modelling have a more realistic approach. "You see girls at catwalk shows watching the models thinking, 'I couldn't wear that, I am size 12 or whatever, but of course they can wear it. Clothes come in different sizes and our models should reflect that."
Although the business is in its infancy, Kirsty and Ben are surprised at how quickly Beautiful Freaks has taken off. Ben says "We're getting more enquiries from potential models by the day. We aim to make the casting procedure easier by installing facilities on a new website.  There will be an online form where potential clients can upload a recent photograph for submission."
Kirsty says "What we are hoping to achieve with the agency is a clean break from the seediness of the casting couch. We run a friendly service and keep in touch with the girls as often as we can so we have a full understanding of their personality."
Ben says "This works well for the models because they're comfortable in their work and it also benefits the clients because we can give them the model to suit their requirements."
Beautiful Freaks Modelling so far has an impressive portfolio of models although Kirsty and Ben are eager to expand the business.  Kirsty says "At the moment we only have girls on our books but we have some fantastic opportunities lined up for the near future and we are looking for men to model for some exclusive photo-shoots." Ben says "We operate a non-prejudice agency but we do have to be realistic about what makes a good model so the one specification we have with all of our clients is that they must be of a reasonable height, 5′ 6″ this is of the utmost importance as their job, in some cases, is to sell clothes and we need figures that are able to carry themselves well and show off the clothes to their true potential."
Forthcoming events featuring Beautiful Freaks in Beverley and the surrounding area include wedding fairs, fashion shows and uniquely a "Bunny Girls" event at Fusion, Wednesday Market, Beverley. The event coincides with the reopening of Hugh Hefner's infamous London Playboy Club and will feature ten "Beverley Bunnies" provided by Beautiful Freaks, and whilst dressed in traditional bunny attire, the girls will carry out a series of tasks to raise money for charity. "It should be a great event," says Kirsty "we have also enlisted the help of Krystyna Stark, a former Playboy Bunny, to show the girls how things are done." The event will take place on 20th April and is already the talk of the town.
If you think you have got what it takes to become a model, then contact Kirsty at Beautiful Freaks Modelling kirsty@bfreaks.com, if you require the use of models for any corporate or promotional events contact Kirsty on the above email for all booking information.
Beautiful Freaks Modelling
Tel: 0800 1223018
Email: kirsty@bfreaks.com