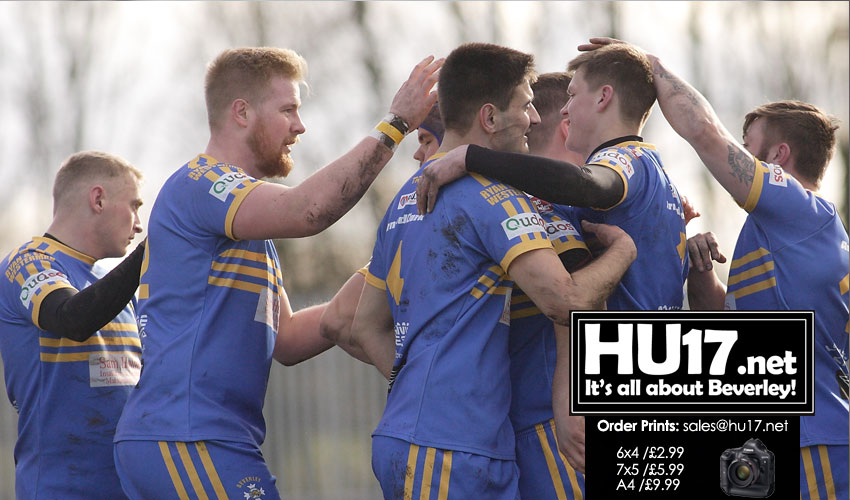 The blue and golds kick-started their season with this win which was harder work than the scoreline suggests. Barrow Island arrived in town looking to extend a seven-game winning run stretching back to last July but the hosts had other ideas.
Barrow looked to blow the opposition away very early on and raced to an 18-0 lead in only 11 minutes. Jack Howdle forced his way over from close range quickly followed by a try from dummy half by Tom Moor.
Jack Howdle was then the provider to send brother Bobby Howdle over. All 3 tries were converted by Josh Poskitt. The pendulum then swung in favour of the visitors who regained possession from the restart kick. In the same set, the ball was swung to the right for Ryan Clegg to cross and Adam Jackson to convert.
After withstanding more pressure from the visitors, the home side managed to strike back from their next venture into the opposing 20. Alex Calvert charged over to cap off a strong man of the match performance. Josh Poskitt again converting. The see-saw nature of the game continued as Beverley again lost the ball from the restart. Dan White went over from a move directly from the scrum with Adam Jackson again adding the extras for the visitors.
In a recurring theme, Barrow Island lost possession from the restart and shortly after Jack Howdle crossed running a clever angle onto a pass. Josh Poskitt again improved but Peter Rimmer had the last word of the half, crossing for an unconverted score to pull the score back to 30-16.
The second half saw both sides unable to maintain the breakneck pace of the first half and the game became more of an arm-wrestle. Ten minutes into the second half, Beverley stretched their advantage. Jordan Precious supplied a neat inside pass to send Jack Howdle over for a hat-trick. However, the extras were not added this time.
A 40/20 kick then put the visitors in the danger zone. Their man of the match Josh Banham then took advantage to score. The extras were added to reduce the deficit to 12 points.
At the midway point of the second half then saw passions boil over as a skirmish erupted. Otherwise, the game had been played in a good spirit but the referee sent a player from either side to the sin-bin which seemed to have the desired effect of cooling things down. Beverley were getting a little anxious but Lewis Poskitt dropped a goal to steady the nerves.
In the closing stages, Barrow Island continued to press and looked to have scored but were pulled back for a forward pass. Then in a final throw of the dice, a long pass was aimed to the right but was intercepted by Lewis Poskitt. Poskitt raced 70 meters to score for Josh Poskitt to convert and complete the afternoons scoring.
Final Score: Beverley ARLC 41 Barrow Island 22 | Reported By Nick Robinson