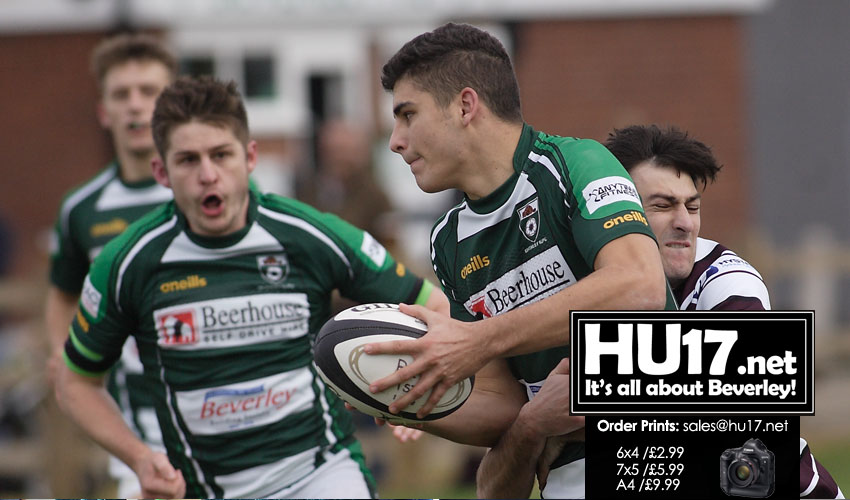 Beware the ides of March. But not this week. After the dismal affair a week ago at Dinnington Beverley were back on top form securing another outstanding bonus point win – the seventh in their last eight games.
Crossleyans started the match only one point behind Beverley but never really got a look-in and Beverley comfortably cruised home scoring six tries in the process all of which Phil Duboulay converted in difficult conditions.
Crossleyans had a good first quarter of an hour at the end of which they led 10-0 through a Raman Sembi try and a penalty and a conversion by Callum Dunne. Beverley gradually got themselves into the game, their pack increasingly getting the upper hand in the forward exchanges. Isaac Keighley, Jack Houseman and Alfie Hart-Fisher all started to make good ground whenever they had the ball, Lewis Szrama put himself about to good effect, and the front row never failed to stand their ground as well as make inroads into opposition territory.
With Beverley now getting more possession and starting to look the more dangerous it was no surprise when they opened their scoring. A nicely worked converted try under the posts by Duboulay, quickly followed by a penalty, got them level after half an hour. Duboulay with a clever jink and side-step ten metres out then put them ahead with another converted try under the posts.
Having now edged ahead the lead was consolidated on the stroke of halftime by a third try, this time a remarkable effort by Luke Hazell who set off near his own 22 and rounded man after man on a circuitous run before going over in the opposite corner. In the fierce crosswind, Duboulay's conversion from the touchline was in its own way almost no less remarkable. Apart from his personal tally of 25 points Duboulay's contribution to the ultimate victory, not least in his tackling, was immense. His place kicking this season has been quite remarkable, to the point that when he does miss you are now almost surprisingly taken aback.
Crossleyans started the second half as powerfully as they had the first. They attacked the Beverley line from the restart and scrum-half Joe Stott went over in the corner after five minutes. But any hope they might have had of a comeback was quickly nipped in the bud when Housesman powered his way over for another converted Beverley try taking them to 31-15. Just as they had in the first half Crossleyans faded as Beverley became increasingly dominant. Crossleyans most dangerous runner, winger Josh Hunt, did elude a succession of attempted Beverley tackles with a fine run down the right touchline to get over, thereby narrowing it to 31-20 but realistically the outcome was no longer in any real doubt. It was surprising that Crossleyans did not attempt to make better use of Hunt who always looked to be their real danger man and most likely scorer.
Keighley, pounding over from the back of a five-metre scrum, added another try and Hazell with another spectacular run, this time from his own ten-metre line, crossed for a sixth. Rob Smith looked a bit unlucky to be yellow carded for a high tackle. Will Turnbull stood in for the brief stint at scrum-half which ended on a slightly comic note. The loss of Smith, in fact, was of little consequence as Crossleyans were down to 13 players having received two yellow cards in a fairly robust second half. In the later stages, Crossleyans threw everything into trying to secure a fourth try and bonus point but the game petered out with Beverley comfortably in command.
So Beverley goes marching on. Given their outstanding record since the turn of the year they must now be regarded as the form team of Yorkshire One. What a pity they had such a wretched month or so in the Autumn, a collapse that not for the first time seemed to be sparked off by a dire performance at Hullensians.
FINAL SCORE: Beverley RUFC 45 Old Crossleyans 20 | Reported by John Nursey