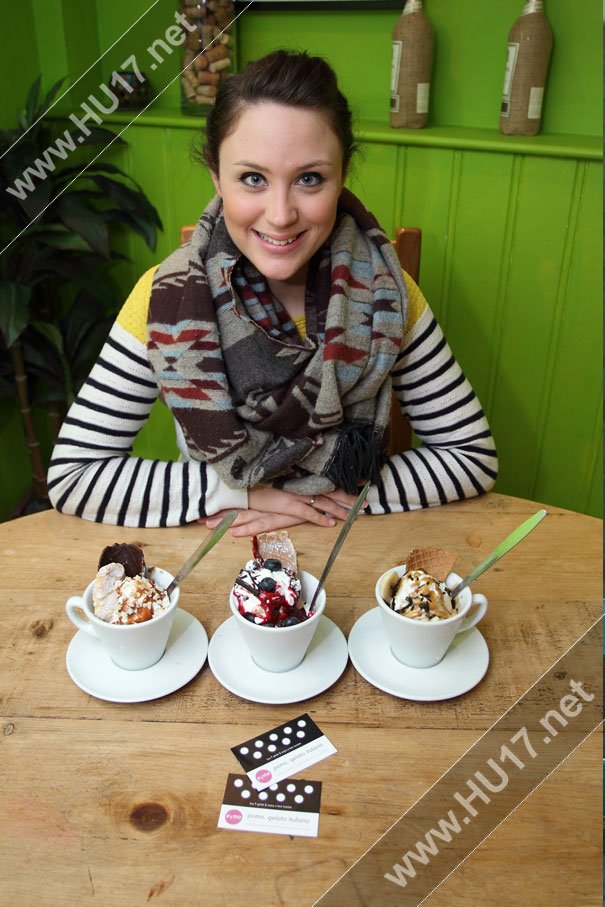 Rolando's have been celebrating  as it is two years since they launched their artisan gelato range.
Father-daughter team Rolando and Jessica Poma have been running the business together since 2007, and when the idea came about to introduce proper, homemade Italian gelato, Jessica booked herself onto a course at the Gelato University in Bologna, Italy.
After a lot of learning, practicing and, of course, eating, the brand of 'poma' was born in May 2013.
"We tried out over a hundred different flavours that first summer" said Jessica, "There was nothing that didn't sell, people were willing to try anything, especially once they realised it was homemade."
Jess added;
"We've narrowed down our offerings now, after learning what kinds of flavours our customers prefer, although vanilla and chocolate are still the ones I make the biggest quantity of."
"In celebration of the anniversary, Jessica has launched a new menu of sundaes and affogati – a traditional affogato, I am told, consists of a scoop of vanilla gelato with a shot of espresso poured over the top (affogato means "drowned") but there are also some with alcohol added, or different flavours of gelato."
"We wanted to bring something new this year as it's important to keep improving and developing the brand. Our sundaes are pretty rustic, served in our cappuccino cups, with classic flavours and so far the feedback has been extremely positive."
"I'm excited about the affogati as well as its not something you often see on a menu, especially not the variety we've created."
"It's quite labour-intensive creating each batch from scratch but it's important that we use the best ingredients possible – fresh fruit goes into all our sorbets, our chocolate is made using 100% cocoa powder and our pistacchio is absolutely 100% Sicilian pistacchios."
"We still get regular customers coming in who don't realise we make it here, so we want to spread the word."
Rolando's is open Monday-Thursday 9am-5pm, Friday and Saturday 9am-9.30pm and Sunday 11am-5pm  – although sometimes later if there is a queue for gelato,  and they are now offering loyalty cards – buy 9 gelati and get a free sundae.