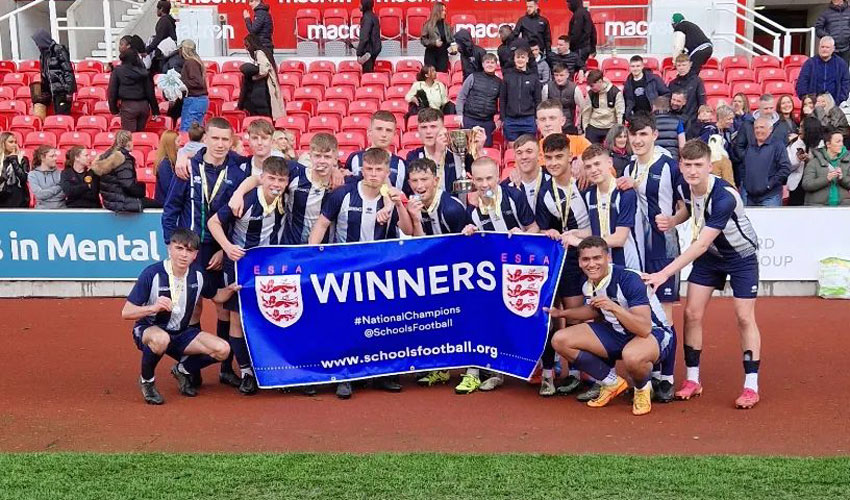 The English Schools Football Association (ESFA) Super League National Cup has been won by Bishop Burton College.
At Stoke City Football Club's stadium, the college's Football Academy team defeated Harris City Academy from Croydon, South London 2-1.
In addition to winning the ECFA Category 1 League, the team went unbeaten this season, winning all twelve games they played. As a result, the team, which is composed of first, second, and third-year students, has been crowned domestic double champions.
Director of Football James Bennett said;
"The ESFA Super League is a competition in which over 150 colleges and schools with football programmes entered their 1st teams into at the start of the year. To reach the final was a fantastic achievement for our students after winning 8 successive games in previous rounds, but to go on and win and become champions of England for the first time in the college's history is something that will live long in the memory of our students and staff".
This college offers a wide array of sports programs, including a highly successful Football Academy. Designed to allow students to participate in their sport at a national level and work with professional performance coaches, the Academies are open to students from any academic program. This double national win is a significant milestone for the Football Academy since its inception.
Director of Sport and Sports Partnerships Sarah Milton commented;
"To bring a national trophy back to Bishop Burton is a fantastic achievement and is testament to all the hard work put in every day by the football coaching team and the players. Years ago, our mission was to be the best and most recognised college football programme in Yorkshire, to now extend that title to a national scale is fantastic for the college and I am extremely proud of everyone involved".
Prospective young players have been invited to attend Bishop Burton's upcoming pre-season schedule in order to be considered for the college's Football Academy.
Interested parties should contact James Bennett directly by emailing james.bennett@bishopburton.ac.uk.
To find out more about the Sports Academies please visit https://www.bishopburton.ac.uk/sports-and-equine-academy