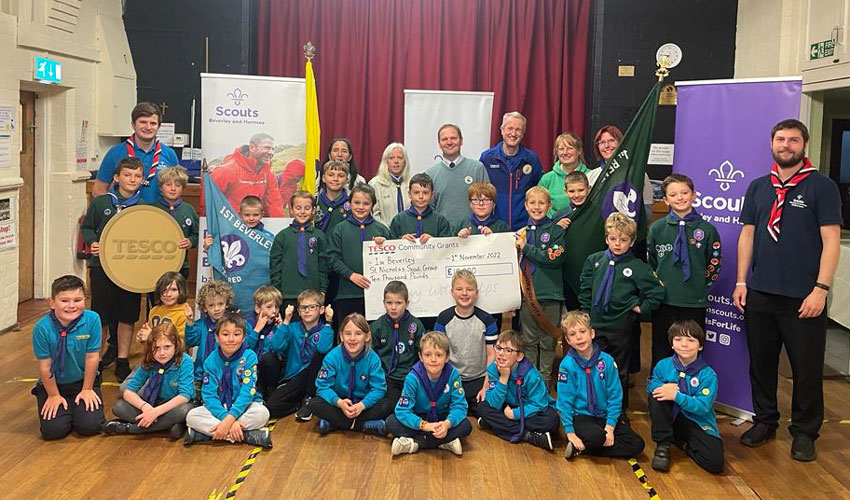 East Yorkshire shoppers at Tesco's Beverley recently had the chance to find gold versions of our blue Tesco Community Grants voting tokens in a lucky dip.
A £10,000 Golden Grant was then awarded to one of the three local good causes in the store's current vote by the finder.
As part of our Golden Grants Celebration Day, 100 Tesco stores across the UK donated a total of £1million to local good causes. In 2016, Community Grants were launched and have since given more than £100 million to 50,000 good causes.
Children's sports teams, playgrounds, parks, food banks, and breakfast clubs have benefited from our support.
The winning group at Tesco Beverley was the 1st Beverley St Nicholas Scout Group, and the check presentation took place at the St Nicholas Church Community Centre at the start of November.
Treasurer Lis Watson said:
"The whole Scout Group was thrilled to learn of our win. We are still in a state of shock and just want to thank all Tesco's customers, especially those who voted for us and the mystery shopper who chose us with his golden token."
"It is a huge amount of money for us and makes an incredible difference to our Scouting activities."
"We have lots of plans for the grant which include providing modern lighter-weight tents and shelters, plus other portable equipment that will enable us to undertake more outdoors Scouting activities, whatever the weather."
"We intend to make provision so that all of our young people can join us in any of our Scouting adventures in 2023 and beyond, whatever their circumstances. We are certainly aiming to hold an adventure-based group camp to develop team-building skills and friendship."