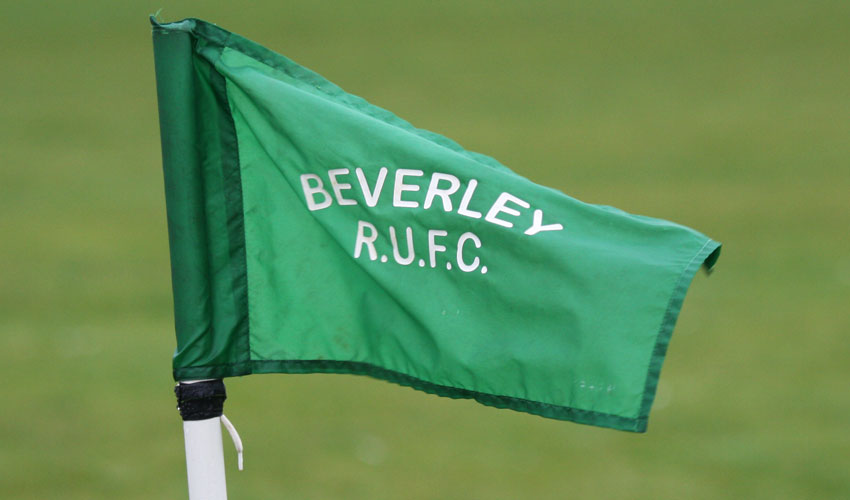 After a fine performance the previous week Beverley lapsed back into their bad habits of earlier in the season and deservedly paid the price.
Basic errors and ill-discipline abounded throughout. Twelve penalties conceded in the first half alone says it all. Rishworthians not so much achieved the victory as had it handed to them on a plate.
Yet Beverley were still in it until ten minutes from time at 25-25 having been the dominant side for much of the game. For the first half, they had been in complete control and were 18-6 up at the break. They had played with great determination up front and in the backs, Rishworthians had struggled to cope with the pace of the Beverley runners.
Regardless of the outcome on the field, this was a particularly sombre day for the Beverley club with the breaking news of the death of Kevin Dean. An air of sadness pervaded the whole afternoon, more so perhaps among the senior and long-time members.
Kevin Dean had joined the club as a teenager and had been a stalwart for the best part of fifty years, initially as a versatile fly half or full back and subsequently as a supporter. Many could probably match such a length of association with a rugby club but few could claim to have given such wholehearted support and loyalty.
Nor could many claim to have gone on playing so enthusiastically until they were well into their late forties as he did. In whatever capacity, either as player or supporter, he never failed to give his all.
Any of us who have been around for a long time would probably be hard-pressed to recall a single club occasion when he has not been present and participated. He will be sadly missed by everyone who knew him at Beaver Park and beyond. A much admired and well-loved man. The funeral arrangements will be published on the club website in due course.
The first half an hour of this game was largely one of stalemate although Beverley had several good chances to go ahead only to squander them with forward passes or knock-ons. An early Rishworthians penalty had been cancelled out by one from Rob Smith before Smith waltzed through the visitor's defence from halfway to touch down under the posts.
Risworthians narrowed the gap with a second penalty but Smith responded with one for Beverley and then and almost immediately afterwards took an interception on his own 22 to sprint 75 metres for a second try which he converted from the touchline. Turning round 18-6 up at halftime Beverley looked to have victory well within their grasp.
Ten minutes into the second half it all started to go wrong. A Smith penalty attempt dropped just short of the posts and was seized on by the Rishworthians defence who opened up play and went the length of the field to score a try at the other end. Five minutes later they added another when their centre sprinted clean through the midfield to bring the scores level at 18-18.
Beverley regained the lead with a converted try when they went left from a scrum on the right touchline and Jacob Holmes with a lovely slipped pass sent Jake Boardman over in the corner. Smith converted and with twenty minutes left it looked like Beverley might hang on for the victory. But their game was rapidly falling apart. Four penalties conceded in rapid succession ended with another converted Rishworthians try to bring it level again at 25-25.
Mistake followed mistake. A penalty awarded to them was reversed through ill-disciplined backchat and two careless handling errors then allowed Rishworthians to pounce and round it off with a couple more converted tries. Not a great day for Beverley it must be said. We can only hope for better things next week when they travel to Roundhegians. They undoubtedly have the making of a very good side but until they start cutting out the basic errors and ill-discipline it is difficult to see them making much progress in the league.