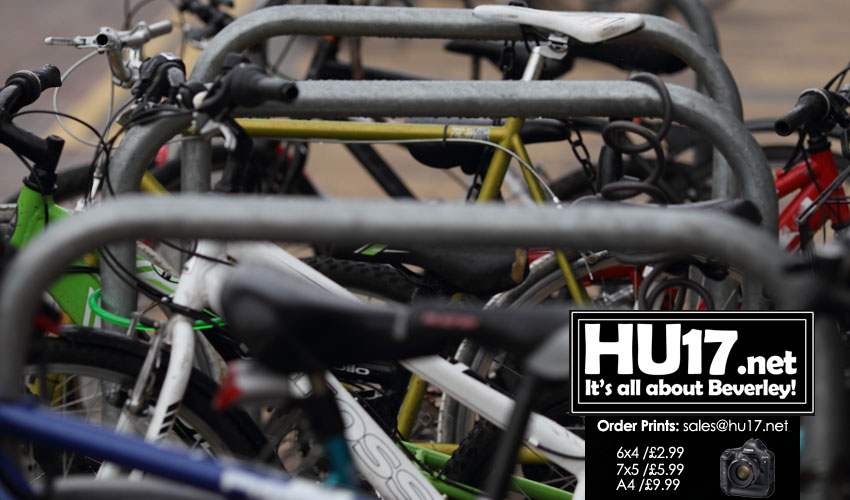 A new scheme has been launched by Humberside Police to help people protect their bicycles from thieves and keep them secure.
In Humberside, since 2018, thefts of cycles have accounted for 3.21% of all crimes. Nationally, thefts of cycles account for 2% of crime, however, in Humberside, thefts of cycles constitute 31%.
Humberside Police will be in Beverley at the Leisure Centre on Saturday 14 May from 10AM till midday security marking bikes.
Leading the new scheme is PC Graham McNally. He said:
"It may seem that 3.21% is a small figure in the scheme of things but, as the recent national statistics report, it is a crime on the increase and as such we want to reduce the number of cycle crimes."
"Most of the cycle crimes in Humberside Police are thefts, where bikes have been left unattended and insecure, or with poor security in busy areas. This affords an opportunist thief the chance to simply walk or ride away undetected."
"Some though are taken in burglaries and robberies, where more than one bike might be stolen, and some are targeted specifically.
"The financial loss to victims is huge, with the average retail price of a new bike being around £500. The loss of the bike might mean a loss of exercise or fun for kids, but many people use their bikes as their only form of transport to work or leisure."
"To help reduce the number of thefts and to encourage people to mark and register their bikes, we are rolling out a new forcewide crime prevention scheme which will see local officers attending events and organising smaller cycle-marking events within their own communities."
"Officers and staff have been trained to put security marks on cycles and help people register their bikes free with the Bike Register. This also gives people the opportunity to find out how best to secure their bikes at home and outside."
"We have organised a few local cycle-marking events already and are hoping that throughout the summer we will be able to attend a lot more and security mark and register hundreds of bikes."
"Both the local community police team and Safer Roads Humber will be on hand at this event to mark and register bikes and provide cycle security and safety advice."
"This is a really good opportunity for the public to get this free service. You don't need to book, just turn up with your bike. I hope as many people as possible turn out to help protect their bikes."
"I would encourage any cycle owner to keep an eye on our social media channels to see where we will be and take your bikes along to make the most of this free crime prevention measure."