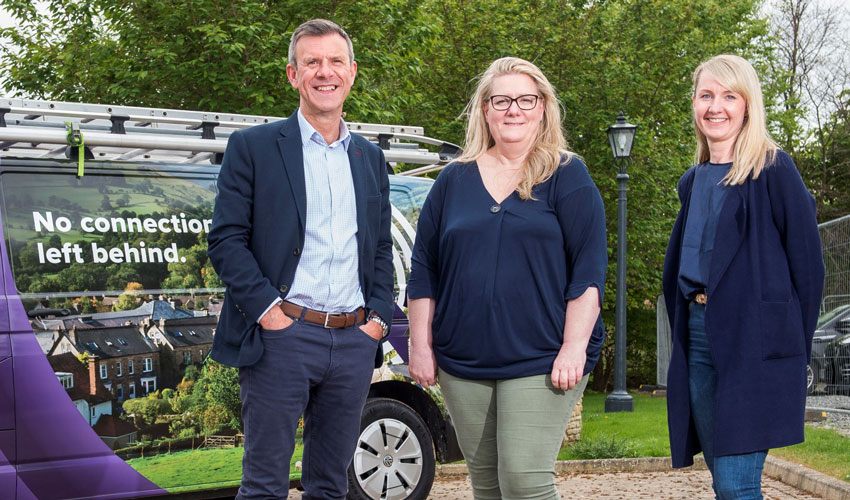 Quickline Communications, a rural broadband provider, is pleased to announce the appointment of a leading commercial expert. Sue Barnes joins the company as the new Chief Commercial Officer from Voneus Broadband.
With over 30 years of experience in senior commercial leadership roles, she has a proven track record of building world-class teams and driving growth in fast-paced environments across telecoms, digital, print and broadcast media within both start-ups and large organisations.
Sean Royce, Quickline's Chief Executive, said Sue's arrival demonstrates the rapid expansion and ambition of the company following its acquisition by Northleaf Capital Partners last June and a £500 million investment outlined by the new owners over the next four years.
He said:
"This is a key appointment for us and we are delighted to welcome another high calibre specialist to our executive team. Having worked for another national broadband company for the last 3 years, Sue is well acquainted with what customers need and expect from their broadband provider."
"She will now continue the great progress we are already making in building our ultrafast hybrid network to reach over 500,000 premises in rural communities across the North of England with an increasing focus on winning new customers, retaining and delighting existing ones and spreading the Quickline brand as we look to expand our network in new areas."
In her role as Chief Commercial Officer, Sue will be leading all commercial teams for Quickline, including Product and Proposition, Marketing, Sales, Customer Experience, Performance and Engagement. She said:
"I am thrilled to have joined Quickline at the start of a major growth phase. Alongside the unique hybrid broadband gigabit-capable network the company is developing, I'm looking forward to addressing the whole provision of lightning-fast broadband in rural communities across the North of England and beyond to ensure that no one is left behind when it comes to fast, reliable internet connectivity simply because of where they live and work."
This week's appointment comes just a few months after Claire Hickey also joined the leadership team from Howden Joinery as HR Director.
Claire is leading the company's rapid recruitment drive as Quickline prepares to double its workforce again by the end of the year.
She is also focusing on people development and finding new ways of working in a post-pandemic world as well as employee engagement and wellbeing programmes for the team.