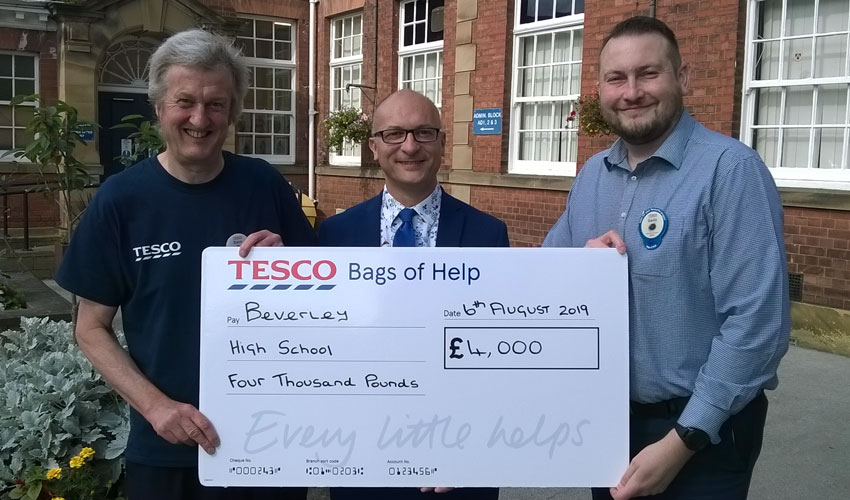 Tesco in Beverley has been handing out the cash to both Beverley High School and the Leven Festival.
Beverley High School was awarded £4,000 while the Leven Festival picked up a £1,000 donation. Money donated was raised through the companies 'Bags of Help' scheme.
Beverley High School's project, Greenpower Car won the support of customers who visit the Morton Lane store.
Mark Colton, Deputy Headteacher was delighted with the news, he said;
"We are delighted that the Beverley community voted for our project to be the recipient of £4000 of funding and are grateful to all the team at Tesco in Beverley for their support."
"The Greenpower Project is designed to encourage young people into engineering as a career as it is estimated that the UK will need 500,000 new engineers over the next 20 years."
"The biggest recruitment hurdle is with females who only make up around 12% of the entire engineering workforce."
"We want to do our bit to try and change that and to encourage our girls into this crucial area by designing, building and racing electric cars."
"We are going to use the funding to work with some of our primary schools to help them build cars as well."
"The good thing about the project is that it is sustainable and the kits can be re-used year after year. This helps us to continue to encourage more and more girls to think about engineering as a future career."
Tesco Also Award Cash To Leven Festival
The Leven Festival was also thrilled with getting some money from Tesco. They said the money will go towards next years festival while also thanking people for voting for them.
Maggie Ann Thorne, Leven Festival Secretary, said:
"The Leven Festival Committee would like to say a Massive Thank you to Tesco Beverley and all its customers who voted for us in the Tesco Bags of Help."
"We were delighted to be awarded £1,000. It will go towards putting on our 2020 Leven Festival, which we hope will be bigger and also better."
"Once again a Big, Big, Thank you to everyone for your interest and support."