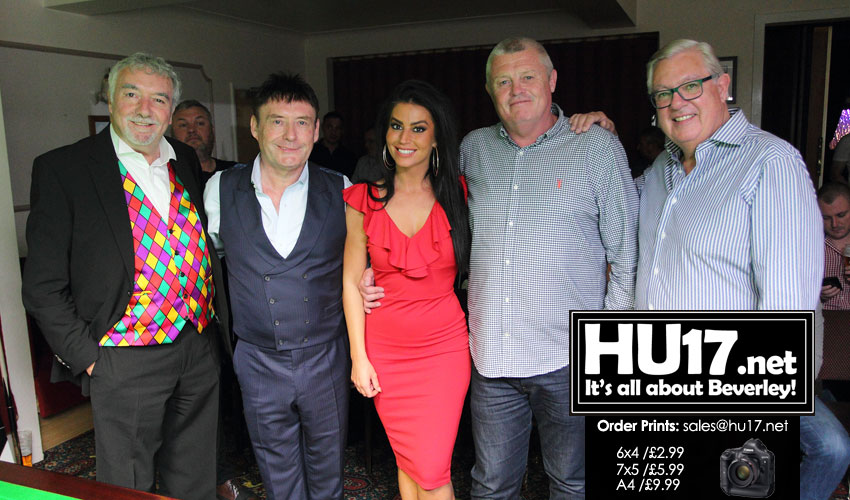 People's Champion Jimmy White raised the roof at the Beverley C Club when he scored a 147. The snooker legend was at the club as a result of a special event that saw him take on 8 members.
80 people snapped up tickets for the event which was hosted by another great from the game John Virgo.
Those lucky enough to be inside the club were treated to a feast of snooker from the 'Whirlwind' that included a maximum 147.
Speaking after the event committee member Keith Saunders said;
"This was a first for Beverley and was certainly a good night for the club. All the tickets we had sold out really quickly for the live exhibition."
"On the night Jimmy won 8-0. His efforts included 3 centuries and the maximum 147. It is always great to see a maximum break, but to see one in your own back yard is just brilliant."
"Jimmy showed his class in making the break especially given the difficult conditions. For our members it will certainly be a night they will remember."
People's Champion Jimmy White Was In Great Form
Local business owner Lee Frost was one of the members at the event. He said;
"As soon as I heard that Jimmy White was coming to Beverley I bought tickets. The night was phenomenal and seeing him get a maximum was amazing, it lifted the roof off the club."
"Jimmy was in fine form throughout the night, if the club does this again I will definitely be going."
Another great highlight of the night was the nominated match referee Mike Drew. While he was spot on with his scoring there was plenty of banter between his and the whirlwind.
This was mainly as a result of Mike not handing Jimmy his rest, when he finally did the club erupted in laughter.
Keith added;
"Given the success of the night, we will certainly look to host something similar. Having seen how it worked we will meet up and see what we can do to make it even better next time."
"From the money, we raised the club will be making a donation to Marrie Curie and also McMillan. I would like to thank all of those who came along and bought tickets for this event."