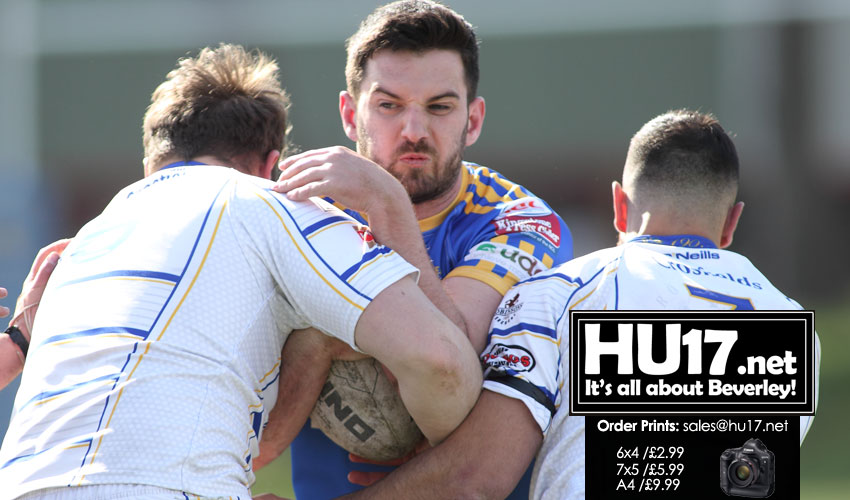 Beverley ARLFC suffered their first defeat at home in over a year as they lost to Crosfields. For some time the Beverley Leisure Centre has been a fortress for Beverley.
This game saw the blue and golds somewhat out-muscled by a physically bigger and more experienced outfit from Warrington.
However, Scott Taylor admitted having been disappointed with his side's showing. Assistant Tony Spece commented that his sides ball retention was not up to scratch. Also adding he felt his side were always chasing the game.'
There are no games scheduled for the Easter weekend next week and Taylor's squad will get a mental break. Taylor may take the opportunity to have a mini review of the season thus far.
Early indications are that the step up from division 2 to division 3 is a bigger one than most people at the club expected.
Crosfields dominated the early exchanges and Jack Reed crossed for them on 8 minutes and converted his own try. Having withstood the early onslaught the home side did manage to get a bigger share of the game but too often did not complete sets.
But in the 25th minute, Lewis Poskitt's 40/20 did set up the position for a clever inside pass. It sentBilly Riby over beneath the posts for Josh Poskitt to improve.
Lewis Wainright did restore the visitor's lead after 33 minutes converted by Read. The score remained at 12-6 until the interval.
The early part of the second half did see Beverley come out with greater purpose. Strong defending forced the handling error to put them on the attack.
The ensuing set saw Bobby Howdle's incisive pass from dummy half send Ash Cator over for Straw to convert and level the scores at 12-12.
Beverley Refuse To Roll Over And Fight Till The End
Unfortunately, any potential momentum was lost when the re-start kick went dead. Josh Whitehead crossed in the resulting set and Read converted to restore the visitors 6 point advantage.
The lead was extended to 8 when Read stroked over a penalty at the midpoint of the second half.
Jack Read added his second try (also converted) for Crosfields on 71 minutes to effectively seal the game as a contest.
Beverley, however, did refuse to lie down and their man of the match Bobby Howdle and Tom Moor continued to prompt and probe.
Indeed Howdle's long pass found Josh Poskitt lurking out wide to dive over for an unconverted score.
Beverley could not close the gap any further and went down to 12 men in the final few minutes as Josh Poskitt was sent off for showing dissent.