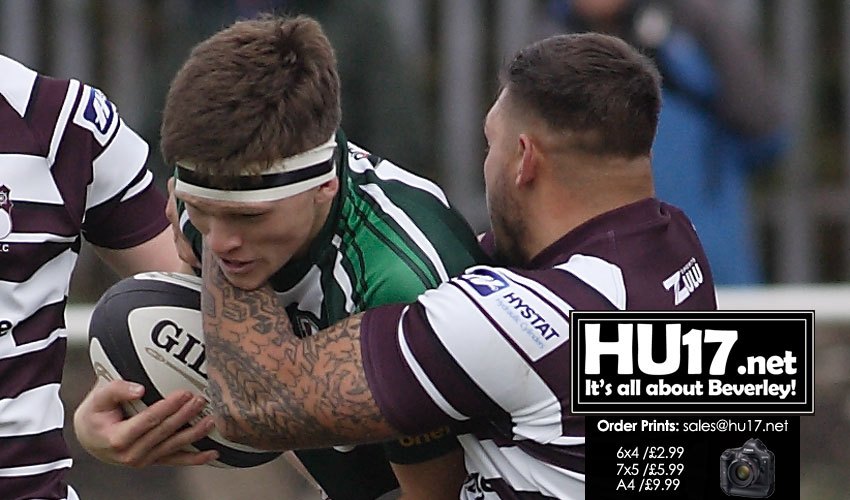 Beverley RUFC entertained Old Brodleians in the last match of the season at Beaver Park in this Yorkshire League Division 1 game and what a cracking match it turned out to be.
Brodlieans kicked off towards the clubhouse and as Beverley mounted an attack up the right flank an interception from a sloppy pass in the Beverley backs led to a try to Brods in the third minute (0-5). Play then settled down with each side sharing possession in the midfield.
The large Brods forwards were testing the lighter Beverley defences. After 20 minutes the Beavers lost full back Theo Richardson to a dangerous looking off the ball tackle. He was replaced by Liam Butler who, with his first touch of the ball, went over for a try under the posts. Rob Smith converted to give the Beavers the lead 7-5
Brods No 8 was sin-binned and Beverley started to dominate proceedings. Scrum-half Charlie Rawlins probing around the edges of the scrum. He was rewarded after 33 minutes with a try, too wide out for the conversion (12-5).
Brodlieans hit back with a try in the corner to make the score 12-10. As half time approached, Raymond Coates left the field. He was replaced by yet another colt, George Bennet- Teare, making his first-team debut. He immediately made an impressive break of 30 metres but unfortunately, his final pass was knocked on.
Beverley RUFC Pick UP Where They Left Off In the Second Period
Five minutes after the re-start Charlie Rawlins scored his second try which Rob Smith converted (19-10). But just three minutes later Brods hit back with a converted try (19-17).
This was developing into a really exciting game with both sides playing some excellent rugby and either side looking likely winners. Jack Foster scored a try for Beverley after a strong run (24-17) to give them the bonus point but again, Brods came back with an excellent try 3 minutes later (24-22) to earn their bonus point.
Then came a pushover try for Brods in the corner to give them the lead at 24-27. Rob Smith then scored a try for Beverley which he converted himself to restore their lead (31-27).
Again Brods came back with another try (31-32) but, finally the irrepressible Charlie Rawlins rounded of a man of the match performance with an outstanding try following a break up the right wing and a chip over the defence. Rob Smith converted and the final score was 38-32.
Six tries apiece and a feast of running rugby was a fine finale to the season at Beaver Park. Beverley finishing a very creditable 5th in the table.
Final Score: Beverley RUFC 38 Old Brodlieans 32 | Reported by Malcolm Cunningham