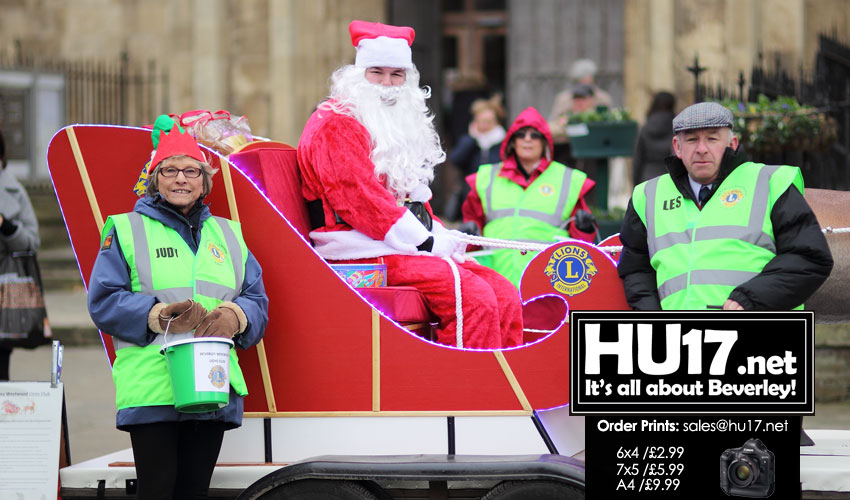 Beverley Westwood Lions will be working with the Flemingate Retail Park this Christmas by bringing Santa to meet shoppers.
Centre manager Graham Tait says that shoppers always give the Lions and Santa a warm welcome from being on site.
Speaking about how the centre works with the Lions and the pending arrival of Santa he said;
"We have worked with the Lions since Flemingate opened. They have brought the sleigh to the site for the past couple of years."
"It has always been warmly received, not least because Mrs Claus sometimes makes an appearance and the children love it."
"From Flemingate's perspective, it's all about supporting a local organisation that does so much for local initiatives."
"This Christmas children will be able to see and have their photograph taken for free with Mr or Mrs Claus. That said it is hoped that their parents will contribute to the organisation via the collection buckets."
Graham added that they also have an ongoing relationship with the Lions, he said;
"Beverley Westwood Lions have a planter down by Wilco supporting the Centre in the 'Yorkshire in Bloom' competition. Whenever we have an activity they believe they can fundraise around we ensure they're able to do so."
"They were also here over a number of weekends when the Minster sand sculpture was being formed."
Beverley Westwood Lions will be at Flemingate for ten dates with Santa in the run-up to Christmas. Their first appearance will during the Christmas Lights Switch on this Friday and they will also be touring Beverley.
Full Schedule Of Where You Can See Lions and Santa On His Sleigh
Friday 23rd November Flemingate Lights Switch On from 5:00pm
Saturday 24th November Minster Food & Drink Festival 10:00am-4:00pm
Sunday 25th November Flemingate Shopping Centre 11:00am-3:30pm
Saturday 1st December Flemingate Shopping Centre 11:00am-3:30pm
Sunday 2nd September Flemingate Shopping Centre 11:00am-3:30pm
Thursday 6th December The Co-Op, Lincoln Way 6:00pm-8:00pm
Saturday 8th December Flemingate Shopping Centre 11:00am-3:30pm
Sunday 9th December Flemingate Shopping Centre 10:00am-4:00pm
Tuesday 11th December Coltman Avenue Shops 6:00pm-8:00pm
Thursday 13th December The Tiger Inn, Lairgate 6:00pm-8:00pm
Saturday 15th December Flemingate Shopping Centre 11:00am-3:30pm
Sunday 16th December Flemingate Shopping Centre 11:00am-3:30pm
Tuesday 18th December The Hayride, Grange Way 6:00pm-8:00pm
Friday 21st December Tesco Supermarket 10:00am-4:00pm
Saturday 22nd December Flemingate Shopping Centre 11:00am-3:30pm
Sunday 23rd December Flemingate Shopping Centre 11:00am-3:30pm