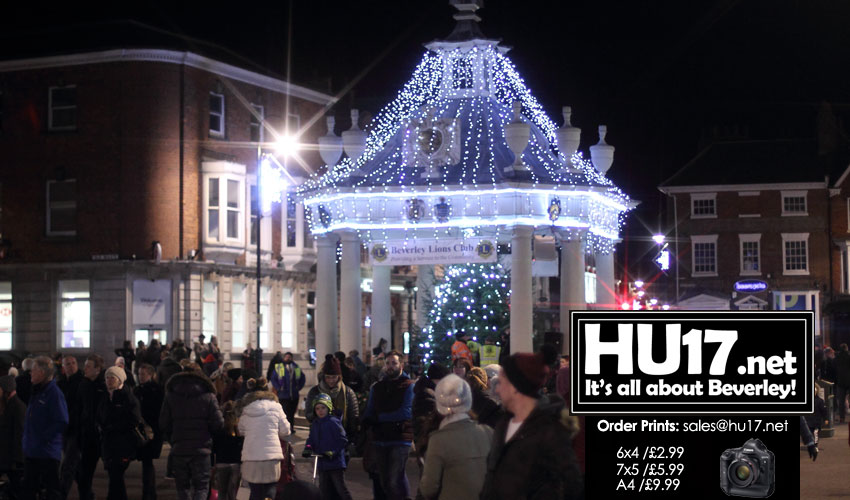 Beverley Christmas Lights Appeal will not be staging an event this year in the town centre. News of their decision means the only event will take place at the Flemingate retail park.
A spokesperson for the group said that there were better ways to spend money. They felt it made more sense to increase the volume of lights rather than pay for an event.
Beverley Christmas Lights Appeal is a volunteer-based group that depends on the support of the Council and public.
Over recent years how Beverley turn on the lights in the town centre has also evolved. From a parade held on Saturday afternoon through to an all-out stand along event.
Last year Beverley had two events to mark the start of the Christmas period in the town. These were held concurrently in the town centre and at the retail park.
Retailers in Beverley have long felt that the countdown to Christmas on the high street only really starts once the lights have been officially switched on.
Christmas Lights Appeal Group Drop Switch On Event
The group added that the event at Flemingate 'has their full blessing' while not ruling out that the event may return.
Following the North Bar illumination, the event was for period scaled up. Also, late night shopping was introduced in an attempt to tempt more people out.
Sporting stars Luke Campbell and Dean Windass and also CBBC presenter Ben Shires have all had the coveted honour of flicking the switch.
The Beverley Lions will still be lighting up their Christmas Tree that is on Market Cross with a service and traditional carols.
However, anyone looking to get their festivities off to a bright start will have to do so at Flemingate.
Flemingate will be hosting their event on 23 November from 5PM and will also include a fireworks display. Shops will be staying open late while event organisers say they have some surprises up their sleeves.