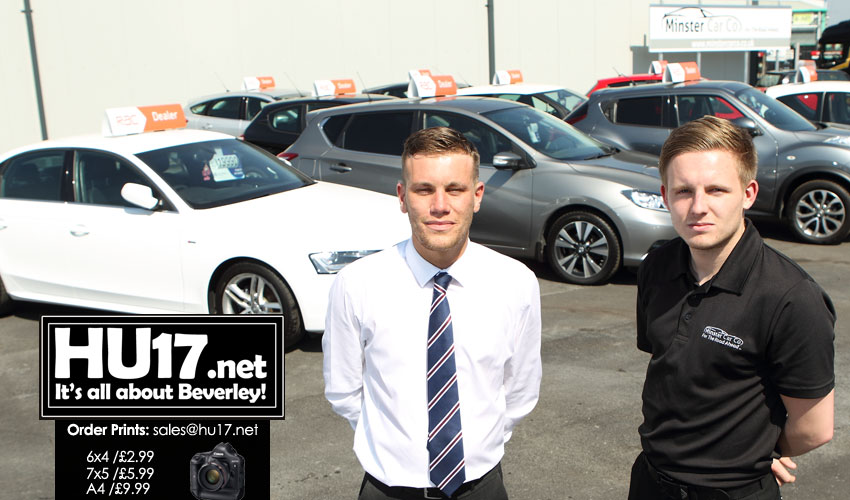 Two businessmen from Beverley say they have enjoyed a successful month since relocating from the town to Hull.
Leon Dawson and Harry Bignell who run Minster Car Co Prestige say the sales figures are a testament to the service they are offering customers.
Speaking to HU17.net Owner Leon Dawson said;
"May has been a strong month for us in terms of sales of vehicles. Our values mean we focus on high quality cars at very affordable prices."
"We stock a wide range of vehicles for positional clients to browse though, we are seeing a big increase in the number of clients coming to us with very specific needs."
"Using our expertise means we are able to source the exact cars people desire, be it a Range Rover or a small family car, what's more we can do this within their budget."
Minster Car Co relocated from Beverley to Hull due to their growth and need for more space.
They recently signed up with the RAC to offer special vehicle warranties as they look to give their clients complete peace of mind.
Mr Bignall who joined the firm in March says that they hope they can continue growing sales without sacrificing the quality of service that is core to their business.
He said;
"There is so much choice when out there when it comes to buying a used car but we feel our values as a business give us an edge over some of the others."
"For us we want our customers to go away and feel not only have they got a fanatic product but they have got a good deal and been treated well."
"We plan to roll out a special promotion in June that will see us pay the annual road tax for any vehicle purchased from us, it is just another way of helping people get the car they really desire."
Minster Car Co are located on 71 Cleveland Street and are open 9–6 Monday to Friday, 10-4:30 on Saturdays and 10:30-3:30 on Sundays. you can view the current stock by logging onto www.minstercarco.co.uk or by calling 01482870055.