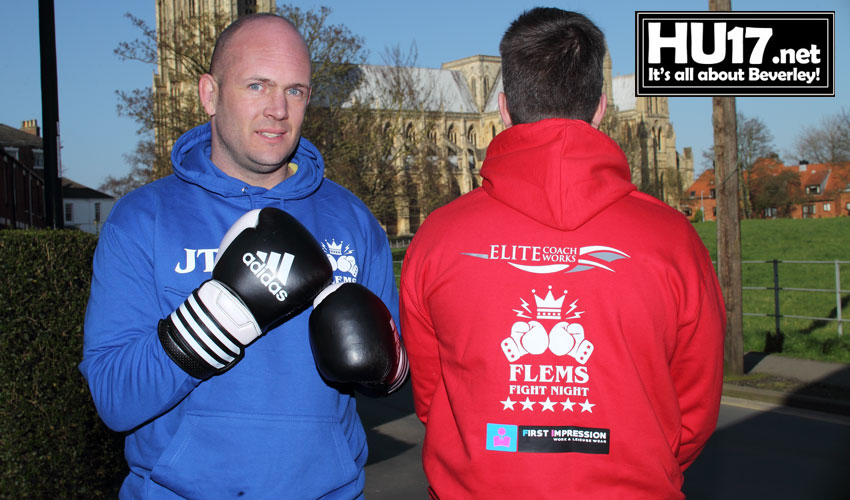 Organisers of Flems Fight Night say they are grateful for the support they have received from the residents and businesses in Beverley.
Following the sad loss of local man Paul Fleming, his friends have pulled together to raise money for his wife and two children.
Taking place this Saturday at O'Rileys's in Hull, Flems Fight Night is on course to raise thousands of pounds through ticket sales and a prize draw.
Organisers of the event Jolly and Jordan Thorne have put hours and leg work in as they pull out all the stops to ensure Flems Fight Night is knock out success.
Speaking about the event Jordan said;
"We decided to organise the show as we both knew Paul personally. I went to school with him, we were both at Longcroft School and we also played rugby together to Beverley RUFC."
"Back in 1997 myself, Martin Shaw and Dave Worrall were on the same team with Paul and we won the Yorkshire Cup, a massive local sporting achievement. However it's fair to say Paul was a better cricketer than rugby player!"
Some of Paul's former teammates will be among the fighters that will be stepping into the ring on and pulling on the gloves for Flem's Fight Night.
Dave Worrall will be looking to try and get his first win as he takes on Gavin Malloy, while Martin Shaw faces a interesting test against Mark Lundie.
Another fight on the card that stands out is Adam Foster who takes on the experience and all round athlete Darren Spruce, who surprisingly enters the ring as the under dog.
When asked about the fighters Jordan made a special mention to the contest featuring Jamie Foster and Phil Gardner.
He said that both men had never boxed before but have shown great courage putting themselves forward for this event.
The Thorne brothers say they are very grateful to all the businesses who have donated prizes to for them to give away on the night, Jolly said;
"We would like to thank each and every one of the businesses for their support. Thanks to their generosity we have some really fantastic prizes that range from a holiday to bottles of wine."
First Impressions Work Wear owner Ian pollard who supplied vests and printing for the boxers said;
"We were very happy to be involved with this event and have done what we can to ensure the lads going into the ring look the part."
"Paul was a lovely man and we think it is amazing how the people of Beverley and local business has come together for what will a brilliant night for a truly great cause."
Limited tickets are still available for the event which gets underway at 7.30PM on Saturday 25 March and can be purchased by contacting Jordan Thorne of Facebook.
Flem's Fight Night – The Card
Harry Milner v James Long
Harry smith v Owen Foster
Phil Clark v Gary Marshall
Chris Pape v Chris Grant
Mark Lundie v Martin Shaw
Jamie Foster v Phil Gardner
Adam Foster v Darren Spruce
Matt Chaddy v Rayno De Knock
Louis Stockman v Scott Vickers
Same Roe v Joe Wileman
Gav Malloy v Dave Worrall