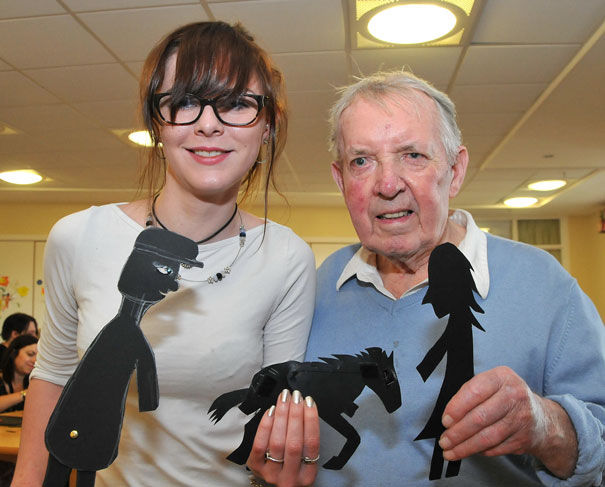 A trio of local artists have been working with residents who have dementia in the East Riding to create a puppet film which will be unveiled at the forthcoming Beverley Puppet Festival.
Residents from The Old School House, the Beverley based council care home which specialises in supporting people with advanced dementia, have been working closely with actress Rachel Harris, film maker Havi Ibrahim and Haviel Perdana of Indigo Moon Theatre on a shadow puppetry film.
The completed work, which is based on the memories and special moments that residents have shared, will be screened on repeat at Beverley Minster during the Beverley Puppet Festival which takes place from 15-17 July.
Councillor Richard Harrap, council portfolio holder for adult and carer services, said: "It is fantastic that residents who are facing the challenges of living with dementia can take part in such an exciting project and share their memories through the medium of theatre.
"Working with an established theatre company like this has been a great opportunity for both residents and staff. I would like to thank everyone involved for their efforts and look forward to seeing the finished film."
The team of artists have visited the home on several occasions, working with residents to make shadow puppets, write the script, rehearse and film the piece.
Rachel Harris, of Indigo Moon Theatre, said: "So far it's been a fantastic project to be a part of and really eye opening into the challenges that people with dementia face and how we have had to adapt our project around the participants."
Tickets for the Beverley Puppet Festival, including discounts (subject to availability), and further details including full listings are available at www.beverleypuppetfestival.com