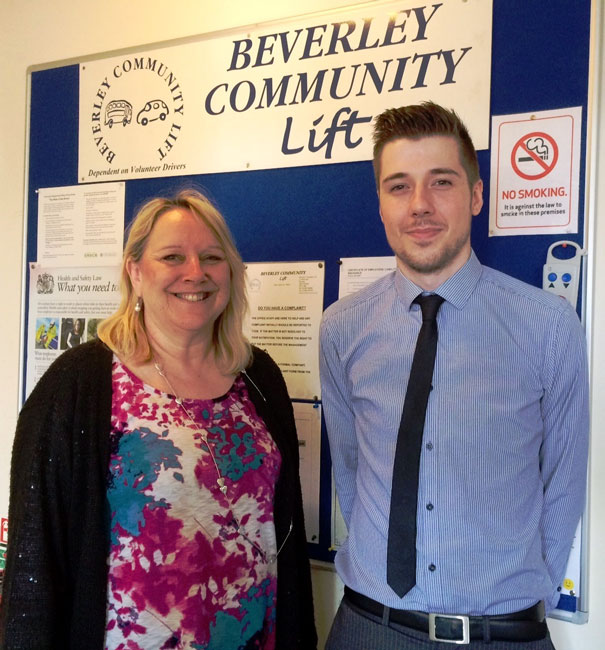 University of Hull student James Bilton has teamed up with local charity Beverley Community Lift in a drive to help more elderly people get out and about.
James is in his second year of study for a Marketing degree, and he decided to volunteer his time to help the charity, after he found out about its services through the University's volunteering services.
Explaining more, James said:
"I chose to get involved with Beverley Community Lift as it's a really good cause, providing transport for help elderly and disabled people to get out and about."
"I'm enjoying my role in helping the charity to develop its online engagement with clients, volunteers and sponsors, and further promote the wide range of services that the charity offers to the local community."
"I'm also looking at digital ideas to help move Beverley Community Lift forward and take full advantage of modern technology output in terms of marketing."
James continued:
"It's a great opportunity for me to get valuable work experience in a marketing role, so I jumped at the chance to do this project. I'm really enjoying applying my skills, gained through study, in a real life, practical way. Hopefully, it will help me in future job prospects in the marketing industry."
Describing James' involvement, CEO of Beverley Community Lift, Jan Stainforth said:
"James is a real asset to our charity. His knowledge of digital marketing is invaluable to us and we're already seeing the benefits of his ideas and work."
"We are pleased to support James in gaining transferable skills and help him secure a job in marketing once he graduates."
For more information about Beverley Community Lift and volunteering opportunities with the charity, please visit www.bclift.org.uk or call 01482 868082.