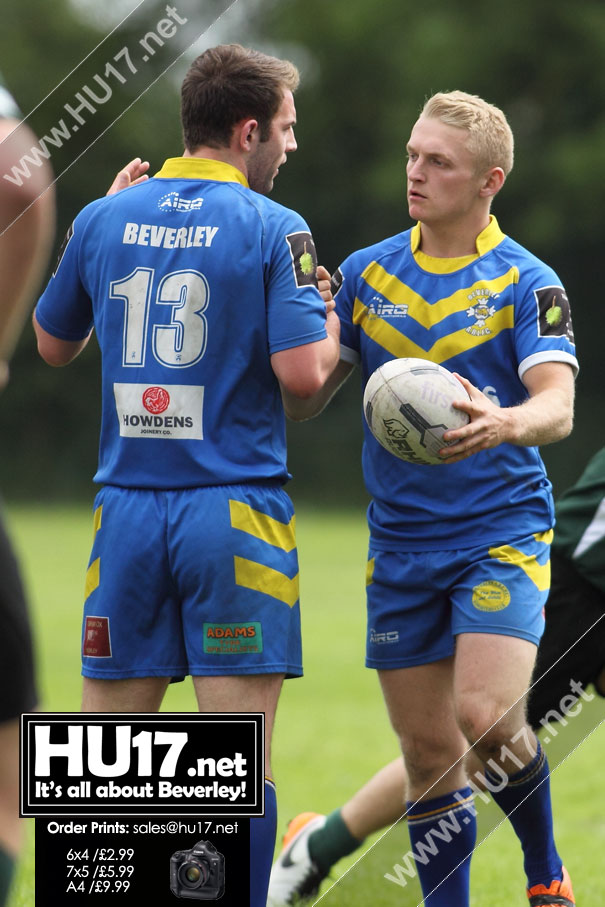 The blue and golds chalked up two more league points against a depleted yet spirited Illingworth outfit at the Beverley Leisure Centre last Saturday.
They were not at their best and seemed a little disjointed, which could be put down to a few new signings not quite gelling with the team yet. However, the win moved them up to third place in the Yorkshire Premier Division, and the potential was there to be seen. Furthermore, a number of key players notably Jack Howdle, Jack Humphries, Chris Johnson and Tom Radley were missing.
Early pressure for Beverley saw a prod into the in-goal area by Lewis Poskitt in the 5th minute which had just a little too much strength on it for debut ant Liam Frenneaux to reach. Alex Starling made no mistake minutes later, taking advantage of an overworked visiting defence, to burst through and score a try too wide out to be improved. Some crisp handling to the left shortly followed and saw Josh Poskitt finish off the move with a try in the corner which he converted himself. More points followed when the hard-working Ryan Watkin broke free to draw the full back and send the supporting Glen Anfield in under the posts. Poskitt converted.
Play then got a little bit slack by Beverley. Josh Baldwin took advantage on the half hour mark to force his way over for Illingworth. Beverley were soon on the attack again, but a pass was intercepted and the Illingworth player was chased down. However, the resulting field position and pressure saw Luke Sutcliffe kick and regather to score under the posts. The extras were added, and Beverley's lead was reduced to 16-10.
Beverley got back on track just before the break when the influential Alex Starling broke away to send Josh Poskitt over for his second. The extras were not added, and Beverley led 20-10 as they headed for the dressing rooms.
Some enterprising play early in the second half saw Lewis Poskit's kick from deep inside his own half regathered by Josh Poskitt. Poskitt's inside pass to a supporting player was ruled forward as the line beckoned. Moments later, man of the match Ryan Davaney dummied and broke away and sent Lewis Poskitt in under the posts. Josh Poskitt converted. Beverley were now in the mood to finish the job and Glen Anfield ghosted through some defenders to send Tom Moor over.
Illingworth still had their moments in attack, but one pass was a little over ambitious and was intercepted by Glen Anfield whose pace in the next 60 meters did the rest. The conversion took the score tp 38-10 after 55 minutes.
Play then got a little scrappy for Beverley. A more patient build up was perhaps required. Credit must be given to a makeshift visiting line up that refused to lie down. They got a consolation try courtesy of Josh Baldwin, and Beverley were down to 12 men for the remaining ten minutes due to a sin-binning of Lee Stevens for obstruction.
The blue and golds have no game this Saturday, but three of their players are on representative duty. Jake Hart-Fisher, Jack Howdle and Lewis Poskitt will be on the Yorkshire Mens League select tour to Serbia. This will involve a game against Belgrade and a game against the Serbia national side.
Final Score : Beverley ARLC 38 Illingworth 16 | Reported by Nick Robinson