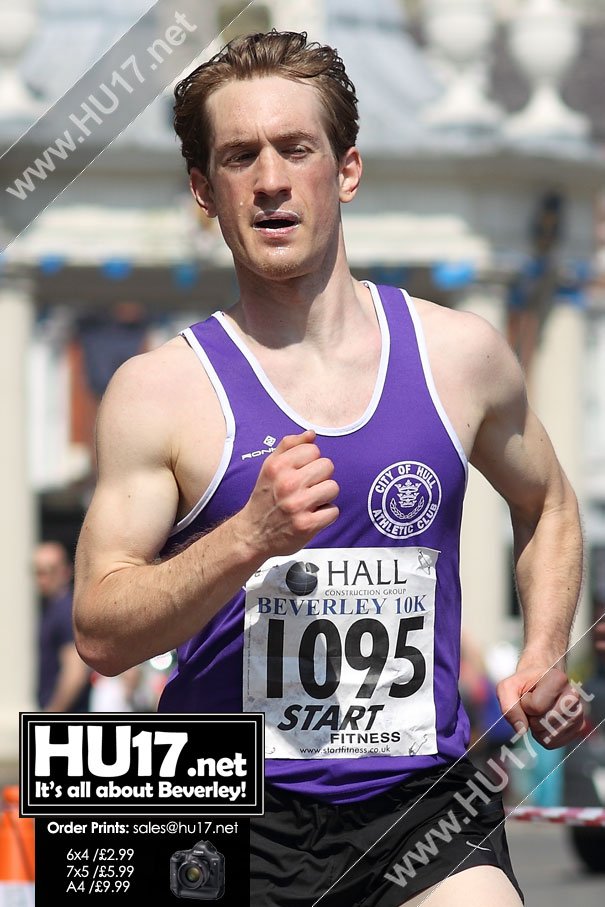 It was a hot day for the for the record turnout of nearly 1600 runners who completed the twenty third Hall Construction Beverley 10k road race last Sunday.
Cheered on by crowds of hundreds of spectators lining the finishing straight from Saturday Market to Wednesday Market spectators, finishers sprint to the finish line along Toll Gavel.
Many others cheered on the runners as they returned to town over the Westwood. After weeks of unseasonably cold weather, the heat and sun was a shock for many and added to the challenges faced by competitors on the scenic route out over the Westwood, across to Walkington, and then downhill back into town and the finish line.
Organised by Beverley AC, the race has a reputation for being a friendly and well-organised event and for providing a great atmosphere at the finish. As well as representatives of many local running clubs and club runners drawn in from further afield, many local runners use the race as a target to spur them on to completing their first 10k, or achieving a personal best time over the distance. Beverley AC supplied pacers to help runners hit their target 10k time, something many found useful to spur them on.
The men's race was won by Kris Lecher (City of Hull AC) in 32:44. Lecher edged last year's winner, Phillip Tedd of Thames Hares and Hounds, into second place. Lecher led the race from its early stages, pulling away from his rivals to win by a margin of just over 20 seconds. Tedd, recording 33:07, was followed home ten seconds later Michael Hargreaves (East Hull Harriers), who took 33:18 to complete the course.
In the women's competition, the winning athlete for a second year was Carla Stansfield (City of Hull AC). Taking 27th place overall in the race, Stansfield crossed the line in 37:52. Stansfield's team mates joined her in second and third places: Sophie Lee finished in 39:10 and Ker Pearson recorded 39:51. This meant City of Hull were clear winners of the women's team prize; the same club also won the men's team prize, with winner Lecher joined by Nicholas Harne and James Pearson.
Many of Beverley AC's runners were committed to marshalling duties during the race, but the club still fielded 30 runners. Several put in noteworthy performances including the club's first finisher, Stuart Little, who recorded 34:25 to come in 5th place overall. Lewis Holloway came back from an injury meaning he missed last year's race to take first prize in his V45 age group and 13th overall, in 36:05. Becky Briggs continued her excellent running record at Beverley, coming in once again as first Under 18 female runner in 40:56, in 67th place overall. Coming second in her FV35 group was Laura Egan, recording 46:09.
In addition to the age group prizes won by Beverley AC runners, other male age categories were won by Shaun Hobson (Driffield Striders, V40, 36:15), Darren Bilton (Leeds City AC, V50, 35:15); Steve Mason (unattached, V55, 35:52); Steve Rennie (City of Hull AC, V60, 38:44), Neil Scruton (Scarborough AC, V65, 41:56) ; Robert Eyre (Bridlington Road Runners, V70, 51:39) and Robert Thomson (Haltemprice Road Runners, V80, 1:15:53).
The women's age group prizes were taken by Sara Rookyard (East Hull Harriers, V40, 41:53); Beverley Wilson (Cleethorpes and District AC, V45, 40:47); Jane Peck (unattached, V50, 53:23); Amanda Dean (West Hull Ladies, V55, 46:20); Hilary Burkitt, Cleethorpes and District AC, V60, 47:29); Stella Dinsdale (White City RRC, V65, 54:12) and Ann Butcher (Bentham Beagles RC, V70, 1:01:55).
Beverley AC would like to thank all the organisations and individuals who supported the race and contributed in a number of different ways. Hall Construction is the main sponsor of the race and also provided staff and road signage on the day. B&A Scaffolding set up barriers and also sponsor the fun run. Qucik and Clarke generously sponsored the winners' prizes.
Thanks to staff at Beverley Leisure Centre and to ERYC for traffic management and parking signs. St John's Ambulance provided valuable medical cover during the event. Cafe Nero provided cups for the water stations, and at the finish Aldi provided water. Other official race partners providing valuable support included Marks and Spencer, Strawberry creative marketing agency, Thorntons, and Warners. The club also thanks all the members who helped organise and marshal the race.
While runners in the Beverley 10k were preparing themselves for their race, around 300 fun runners of all ages lined up on the Beverley Leisure Complex playing field for the start of the B&A Scaffolding Fun Run. The runners included many members of Beverley AC's junior section, and representatives of many other local clubs.
They were joined by Bertie the Beaver who encouraged them all around the 2km course. The runners clearly relished the challenge of completing this mixed terrain race in the heat, and enjoyed the atmosphere. They were cheered home by enthusiastic spectators, and deserved the specially designed medals and goodie bags they were awarded once they'd crossed the finish line.
In the boy's race, the winner was Eire Lavery of Beverley AC, who was followed in by Kyle Richardson of Scarborough AC, with Taylor Arnott, also of Beverley AC, in third. Of the girls, first runner in was Evie Hirst, with Beverley AC's Isabelle Horrocks and Laura Duncan taking second and third places.
The next race organised by Beverley Athletic Club is the Airkool Walkington 10k which takes place at 7.30pm on Friday, 15th July. There is also a 1.75 mile family fun run at 6.45pm.
Entries for this race are open. The third College Canter will be held at Bishop Burton College on Sunday 25th September, and will include grass track races of around 3 and 7 miles. Full details are available from the Club website.