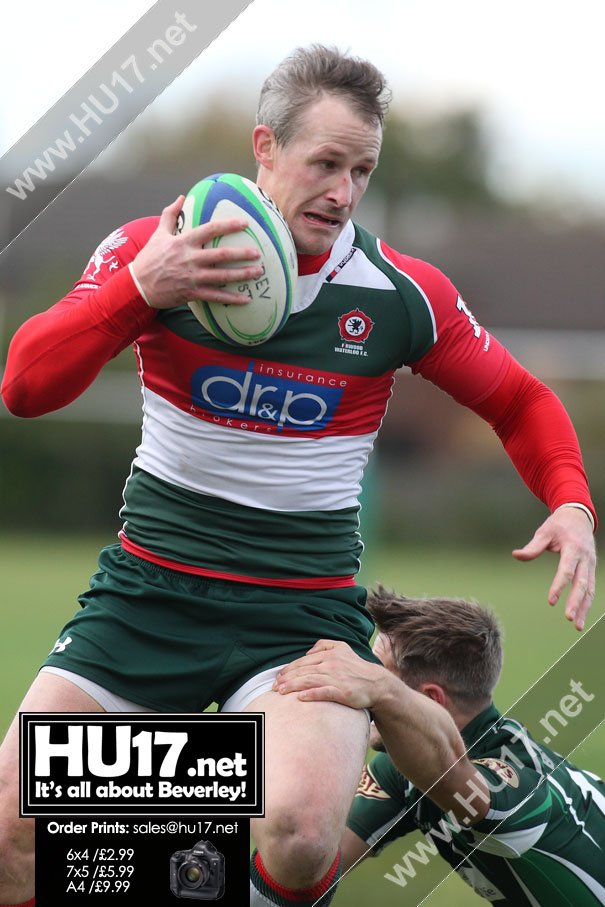 Another tough fixture against a top four side and another pretty hefty defeat for Beverley RUFC. Forget all about that. This was a rousing game played in a great spirit.
Neither side had anything much at stake here and both contributed to an entertaining and enjoyable afternoon. Waterloo obviously took the spoils but Beverley could take enormous encouragement from the day. Their first half was as good as anything they have produced all season and at halftime the final result could still have gone either way. While Waterloo rather ran away with it in the second the young Beverley side never backed down, tackled superbly, and were always a threat. They looked far from a side at the bottom of the table with only one victory all season.
Waterloo started and finished the first half strongly. They took the lead after ten minutes when a fortuitous rebound was hacked over the line and full back James O'Brien touched down in the corner. Fly half Liam Reeve added the conversion. Thereafter Beverley steadily gained in momentum and enjoyed most of the play. Phil Duboulay reduced the lead with a penalty and increasingly it looked odds on that Beverley must take the lead.
Junior Tupai put Richard Bussey through with a clear run to the line only for the pass to have been adjudged forward. Duboulay then made a lovely break to send Tony Maka racing to the posts only for Maka to lose the ball forward as he was tackled on the line. An unlucky bounce from a well judged Junior Tupai cross kick denied James Graham a try in the corner. Any of these would have put Beverley ahead but sadly a second Duboulay penalty was all they could show for their dominance.
After enjoying so much of the territorial play Beverley succumbed to a second converted home try by centre John Cunningham as Waterloo came back strongly in the dying minutes of the half. So the sides turned round at 14-6. Not much in it and Beverley were going well even though they were now two scores behind.
If the Waterloo score just before halftime was not the killer blow then another try directly after the restart almost certainly was. From a penalty lineout fifteen metres out the home pack drove over for a third converted try. At 21-6 Waterloo realistically had the game sewn up. They could afford to play with abandon and they did, producing some scintillating running. In a devastating ten minutes blitz they added another three converted tries from Reeve, wing James Masters, and a second catch and drive by their forwards.
Despite the scoreline Beverley were continuing to give as good as they got. Lewis Starbuck never lost a lineout ball all afternoon and the pack as a whole were never subdued although the greater physique of the home forwards did eventually start to tell. Behind the scrum Beverley showed no lack of enterprise with Duboulay, Tupai and Bussey all creating good running lines. The defending throughout remained first class.
A try midway through the half was no less than Beverley deserved. James McKay took a quickly taken tap penalty, Martin Shaw took it on, and the ball was moved left for Bussey to burst through a gap and send Robbie Davison over. Four minutes from time Beverley missed touch with a penalty and Waterloo countered with wing Matt Crow touching down to round off the scoring.
So another defeat, but oddly Beverley may have been the side to derive the most satisfaction from the afternoon. There is plenty of emerging young talent in the club and Junior Tupai is clearly developing an excellent spirit in the side. We have already seen the potential of the likes of Jake Marin and Alfie Hart-Fisher. Today Davison ran well, young Murray had a steady game at scrum half, Rhys Powell and George Sayer worked hard in the second row and Starbuck is clearly now established as a key member of the side.
Final Score: Firwood Waterloo 49  Beverley RUFC 11 | Reported by John Nursey