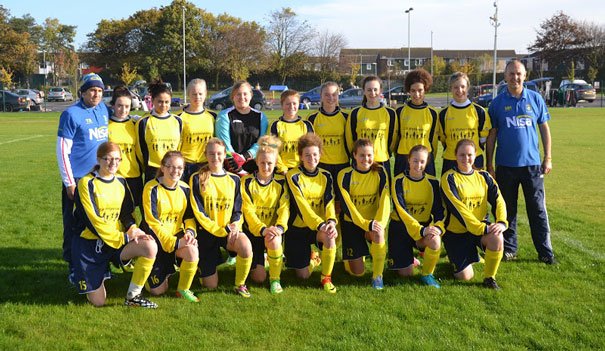 For the second week running Mill Lane Yellows met Hessle Town in a cup quarter final,  this week it was the County Cup,  but the result was the same a 6-2 victory for the Yellows.
A hat trick from Marie Russell, two from Morgan Nagee and one from Tonya Storr secured a comfortable victory for Mill Lane United against a hard-working  Hessle Town side that never gave up and were rewarded with two second half consolation goals from Shannon Welsh.
Performance wise another improved performance from the whole squad with some quality goals none more so than the first goal of the game from a far post header from Morgan Nagee after a Charlotte Holliday corner.
The sides meet again for the third successive week  next Saturday in their first league meeting of the season as the Yellows look to consolidate their position at the top of the East Ridnig Girls Football League.
Man of the matches for the Yellows were Goal keeper Leah Shalgosky for an assured performance and brave goal keeping and Charlotte Holliday in a new defensive position offering the team a new dimension with her ability to start attacks from her own half and some quality deliveries from set pieces.
Final Score: Hessle Town 2 Mill Lane Yellows 6