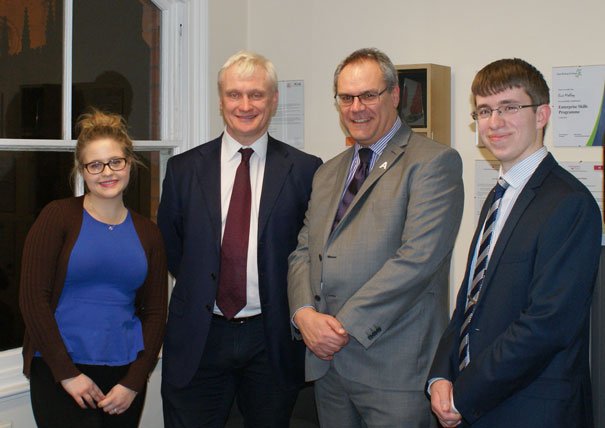 Hemingway Bailey Ltd on Friday welcomed Graham Stuart MP to their offices in Beverley to demonstrate their ongoing commitment to apprenticeships.
Hemingway Bailey, Chartered Management Accountants, was recently named as a Top 100 Apprenticeship Employer by the National Apprenticeship Service in partnership with City & Guilds for their outstanding achievements as an employer of apprentices.
During the visit, Graham had the opportunity to speak to the company's apprentices about their experiences of training on the job and their hopes and aspirations for the future. Graham was also shown the complex level of work the apprentices achieve on a daily basis.
Evie Molloy, an apprentice at Hemingway Bailey, was named Apprentice of the Year for the Yorkshire and the Humber region at the National Apprenticeship Awards ceremony in Leeds in September. Evie is director of her own company – MixEd – which aims to use the skills and knowledge from her apprenticeship to help others of similar ages.
Evie said:
"It was great to be visited by a local MP and for the company to be recognised as outstanding. I hope that we can spread the word of apprenticeships locally and help more young people like myself kick start their career."
Graham Stuart MP said:
"It was great to meet an enthusiastic apprentice like Evie, for whom this has been a brilliant development opportunity.
"The message I would send to employers is that the contribution made by people like Evie is immense and the ability to mould people into the ethos and values and contribute to the development of the system for companies is fantastic.
"This business is not only doing the right thing by taking on apprentices, but more importantly is receiving the benefit from what the apprentices will contribute."
Commenting on the company's entry in the Top 100 Apprenticeship Employer's list, Hemingway Bailey Director, Alan Hemingway, said:
"We were delighted to welcome Graham to our offices to meet our apprentices. We do all we can to give young people the opportunity to reach their full potential, and are proud of the recognition we have received from the National Apprenticeship Service."
To view the full Top 100 Apprenticeship Employers List, please visit apprenticeships.org.uk
Photo, from left, Apprentice Evie Molloy, Graham Stuart MP, Director Alan Hemingway and Marketing Manager Rhys Plater.