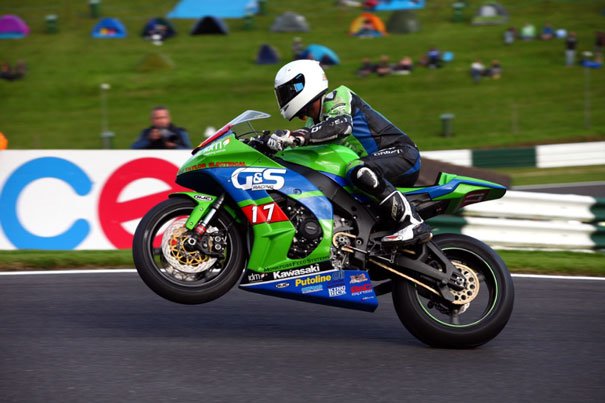 It was a weekend to forget for G&S Racing Kawasaki at Cadwell Park when the two National Superstock 1000 riders Tom Fisher and Dominic Usher were forced to retire with machine problems.
But the saving grace came from Dutch rider Kevin Van Leuven who tackled the Cadwell mountain for the first time in difficult conditions to complete his race in 24th place.
Dominic Usher was running well within the top 10 during free practice and first qualifying but suffered a crash in the final session which dropped him down to ninth place for a third row start to his race on Monday morning.
But as soon as the race began it became apparent that there was an issue with the bike and after just five laps he was forced to retire into the pits.
Commenting on the meeting Dominic said;
"I was running quite well until I suffered a small crash in final qualifying. It left me further down the grid than I wanted but I was sure that if I got a good start I could run with the front boys. But the bike wasn't running as it should and I began to drop down the order and eventually pulled into the pits."
Team Manager Mark Fisher said;
"I must admit we have had better weekends but we take the positives forward to the next round. Dominic was looking at a top 10 finish and we think his bike problem was a mechanical issue caused in the crash that didn't show up until the race."
"Tom was unlucky to be hit in the face and arm by stones thrown up by another bike. Kevin took a long time to gel with the circuit but once he got going in the race he did ok. He was never going to get up into the points from his low grid position but he managed to bring the bike home safely in tricky conditions."
The next round is at the weekend (August 31) when the team travel to Silverstone to race at the British GP. The National Superstock 1000 championship round is part of the support package to MotoGP and the team is looking forward to mingling with the best riders in the world.