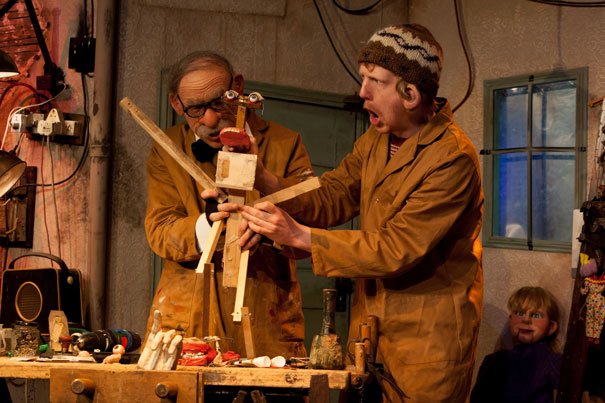 Local festival organisers hope to exceed all previous audience numbers with a menu of adult theatre shows at the 6th Beverley Puppet Festival.
The biennial weekend event, from July 11th – 13th 2014, will feature Pickled Image's Shop of Little Horrors, Stephen Mottram's Animata In Suspension, Sokobauno's How High is Your Stable Door? and returning comedy favourites, the Scottish Falsetto Sock Puppet Theatre who launch the festival at 7pm on Friday 11th July at Armstrongs Social Club.
Thanks to lottery funding, through Arts Council England, and support from East Riding of Yorkshire Council and Beverley Town Council, Beverley Arts Trust is promoting its largest puppet festival yet – with 25 professional companies – including two guest companies from abroad.
Festival Director, Anna Ingleby, believes Beverley should be crying from the rooftops about its unique event:
"Due to the quantity and quality of UK acts converging in Beverley in such a short period of time, we believe this is the largest festival of predominantly British puppetry in the world. It has certainly become a national showcase and networking opportunity for the art form – with theatre bookers from as far away as Slovenia travelling to Beverley to take this rare opportunity to see so many companies perform in one place over one weekend."
Year on year, local interest in the festival's adult puppet shows has risen. Since 2008, when evening puppet theatre was introduced for adults / age 12+, the adult audiences have steadily increased, with a relatively much larger audience for the evening shows in 2012 than the daytime family ones.
"Having initially dealt with the inevitable raised eyebrows and cheeky responses when touting for 'adult' puppet shows in 2008, we now encounter less suspicion. Occasionally I hear people say, "I don't like Puppets", which to me is like saying, "I don't like books".
"I am delighted by the calibre of this year's adult acts. Pickled Image, who wowed audiences with Houdini's Suitcase in 2008, are returning to close – what will be – a much larger festival in 2014 with Shop of Little Horrors at Longcroft School Theatre on Sunday 13th July."
"This was a show which I spotted at London's Suspense Festival last autumn and am so pleased people will be able to see this locally, it's a very funny show."
"We are also excited to introduce new Adult Festival Shorts upstairs at Beverley Friary – 25 minute daytime shows for grown ups. Hopefully when people see the shows on offer at the festival, they will really enjoy the performances for what they are and possibly even forget that they are watching 'puppets'!"
Beverley Puppet Festival: Here's a taste of what's in store
The Scottish Falsetto Sock Puppet Theatre launch the festival on Friday 11th July at 7pm and are swiftly followed at 9pm by Sokobauno who will perform How High is Your Stable Door? A double bill featuring Galoshins & The Horseman's Word – a glorious gallimaufry of wyrd initiation, improvisation and an old Scottish folk drama. Galoshins is an old Scottish folk play or visiting drama, performed here with puppets, music and song. The Horseman's Word is a re-imagining of an initiation ceremony into the secret society of horsemen performed with horse effigy, mask and drum. Both are accompanied by well-known folk musician Alasdair Roberts.
On Saturday 12th July at 8pm, internationally acclaimed Stephen Mottram returns to Armstrongs with his amazing In Suspension, based on acute observation of the details of human movement. Stephen Mottram lures his audiences into a magical, funny and poetic alternative world where the rules seem to have changed. The especially composed music cocoons Mottram's hypnotic choreography, to create strongly atmospheric and universally accessible theatre, haunting audiences long after the puppets have been packed away.
The finale is on Sunday 13th July at Longcroft School Theatre when Pickled Image perform Shop of Little Horrors. A twisted tale in which Albert Grimlake sits in his cobwebbed Emporium of Novelties, surrounded by strange puppets, each face lovingly crafted and bearing an uncanny resemblance to customers and family long gone. But Grimlake grows old and has no successor… Enter Eric. Young and keen, he's seen all the Muppet movies twice! The perfect applicant…
Adult Festival Shorts at Beverley Friary:
On Saturday 12th July, Portobello Booth present Pierrot Lunaire – Ingeniously carved wooden marionettes, operated on a pulley system, re-enact the poetic Pierrot Lunaire – inspired by Albert Giraud's heartfelt poems, which relate to the tenderness and vulnerability of the moon.
On Sunday 13th July, On the Other Hand present Moving Tales – Enter the world of Mr Potter, a quirky little man who spends much of his time alone. In his world, he seeks comfort in watching television, having a cup of tea and in his memories. You may not have met him before, but Mr Potter will be very familiar. A funny but moving story, Mr Potter, for many, has opened a long forgotten door.
Further programme information & tickets can be found online via www.beverleypuppetfestival.com or by calling 01482 391672 / 880611 or 07855 328552.